Brooklyn Nets trade Kevin Durant to Phoenix Suns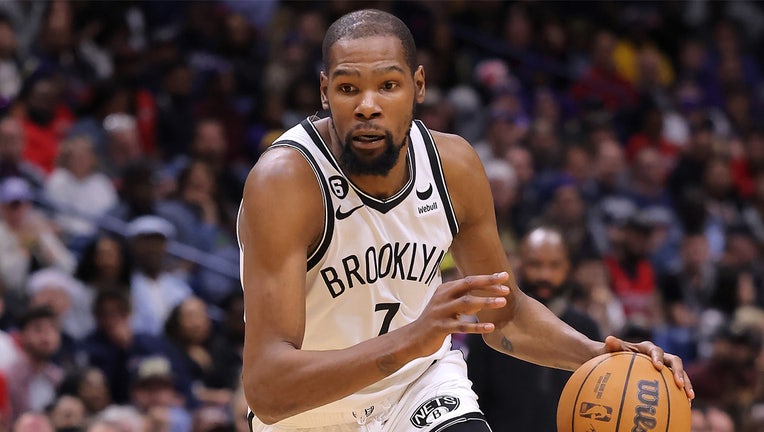 article
NEW YORK - Kevin Durant's time in Brooklyn ended Thursday when the Nets traded him to the Phoenix Suns as part of a four-team deal.
The Nets acquired Mikal Bridges, Cam Johnson, first-round picks in 2023, 2025, 2027 and 2029, and a first-round pick swap in 2028 from the Suns, who also got T.J. Warren from the Nets.
The Nets also acquired second-round picks in 2028 and 2029 from Milwaukee and the draft rights to guard Juan Pablo Vaulet from Indiana in the deal.
The 34-year-old Durant is still playing at an elite level, averaging nearly 30 points per game this season. He asked for a trade last summer and the Suns were interested, and finally got him before Thursday's 3 p.m. EST trade deadline.
Kevin Durant sneakers designed by NYC artist
The Nets, meanwhile, said they felt the deal best positioned them for future success.
"We remain steadfast in our commitment to building the team Brooklyn deserves," general manager Sean Marks said in a statement. "We are excited to welcome Mikal, Cam and their families to Brooklyn and thank Kevin for the moments and memories he delivered our fanbase."
Durant is recovering from a sprained knee ligament, and when he returns it will be to a Phoenix lineup that suddenly could be one of the best in the Western Conference.
He was moved just days after the Nets traded Kyrie Irving from Dallas, a stunningly fast end to the superstar era in Brooklyn. James Harden was traded at last year's deadline, leaving the Nets with little to show for the brief time they had the Big Three together.
Now it's the Suns with a top collection of talent, with Durant joining Devin Booker, Chris Paul and Deandre Ayton.
The trade comes just hours after new Suns majority owner Mat Ishbia was introduced in Phoenix. The self-described basketball nut, who was a walk-on at Michigan State under Tom Izzo, didn't waste any time shaking up the NBA.
Phoenix has never won a league championship. The Suns made the NBA Finals two seasons ago, but lost to the Milwaukee Bucks in six games. They also played in the finals in 1976 and 1993.
The Suns have had several injuries this season, but have won nine of their last 11 games and look like contenders again. They jumped to fifth in the Western Conference with a 30-26 record. Booker (groin) and Paul (hip) have both recently returned.
When Irving heard the news, he said: "I'm just glad that he got out of there."
Irving scored 24 points in his Mavs debut against the Clippers on Wednesday. The Nets refused to give him a contract extension last summer, about the same time Durant was telling the team he wanted to be dealt.
Eventually, Irving left and Durant followed.
"We had a lot of conversations throughout the year of what our futures were going to look like," Irving said. "There was still a level of uncertainty but we just cared about seeing each other be places that we can thrive. Whether that be together or whether that be apart, there has never been one moment where I've felt like he's been angry at me for the decisions I've made or I've been angry at him.
"I just love the competition now that we can be in the same conference."
Bridges was the runner-up to Boston's Marcus Smart last season for the Defensive Player of the Year award and his offensive game continues to grow. The swingman scored 21 points Tuesday when the Suns beat the Nets 116-112 in Brooklyn.
His acquisition, along with Dorian Finney-Smith, who came with Spencer Dinwiddie from Dallas, should make the Nets a much stronger defensive team. But those players can't replace the firepower the Nets lost with Durant and Irving, two All-Star starters.
Durant, a two-time NBA Finals MVP with Golden State, was playing some of the best basketball of his career this season. He was averaging 29.7 points and shooting a career-high 55.9% from the field when he was hurt Jan. 8 in Miami. He had his knee checked again this week and Nets coach Jacque Vaughn said Durant was progressing well, but there was no update as to when he could begin taking part fully in practices.
___
AP Sports Writers David Brandt in Phoenix and Beth Harris in Los Angeles contributed to this report.