2 new lawsuits allege excessive force, discrimination by Derek Chauvin
MINNEAPOLIS (FOX 9) - Two new lawsuits were filed Tuesday against Derek Chauvin and the City of Minneapolis for alleged cases of police brutality committed by former Minneapolis Police Department (MPD) officer Derek Chauvin three years before he murdered George Floyd.  
The lawsuits, filed on behalf of Minneapolis residents John Pope and Zoya Code, allege Chauvin pinned them to the ground using a knee-to-the-back-of-the-neck technique similar to the one that he used to kill Floyd.
"He was on my neck, pressing down, more so that I felt I couldn't move and breathe, and I expressed that to him, and it was like he didn't care about it" Pope said in a news conference Tuesday. 
Lead Attorney Bob Bennett said the cases were part of a larger pattern. 
"What seems to anybody who watched the George Floyd murder – that seemed in and of itself incomprehensible. But if you look at the allegations of John Pope's and Zoya Code's lawsuit, it is not only incomprehensible, it is a pattern," he said at the press conference.   "And my guess is that Zoya, John and George are not the only people that Chauvin was allowed to do these things to. And the other thing we don't know and what needs to be addressed at some point is how many other Derek Chauvin's are there on the Minneapolis police force?"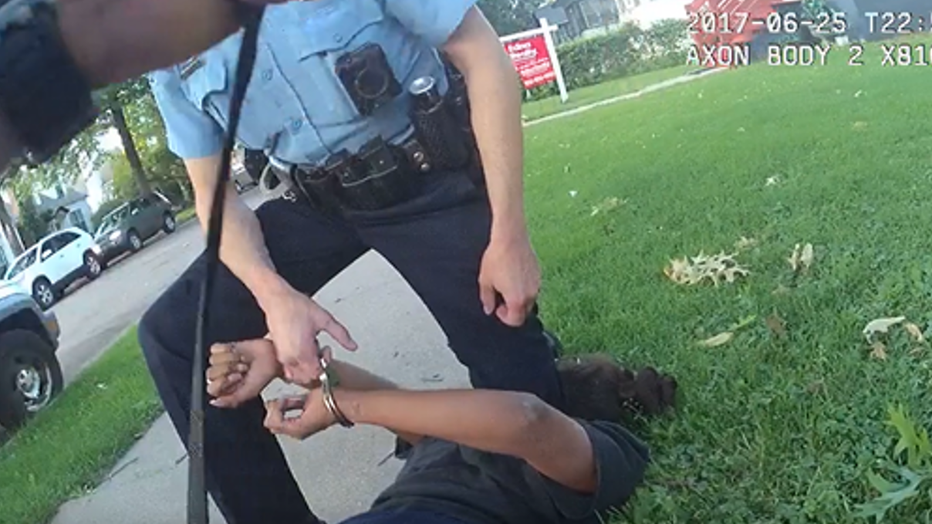 Derek Chauvin kneels on the back of Zoya Code's neck on June 25, 2017. (Image taken from the complaint)
The lawsuits also allege that Chauvin's actions in both incidents were approved by MPD supervisors and that he did not face any discipline, which enabled him to continue his "unchecked use of excessive force" until he encountered Floyd in May 2020,
"As you'll see in the complaints, not only are there bad actors doing these unconstitutional acts but there are people that are there watching it happen and doing nothing to stop it. And then it goes a step further. There are higher-ups who are approving the behavior," said attorney Kate Bennett. 
John Pope 
Pope's lawsuit against Chauvin and MPD stems from his encounter with police on Sept. 4, 2017, when at approximately 8:36 p.m. MPD officers were dispatched to the home where he lived with his mother and sister on Chicago Avenue in Minneapolis after a report of a domestic assault.  
According to the complaint, Chauvin and his partner Alexander Walls arrived at the house and interviewed Pope's mother, Deanna Jenkins, who was "clearly and obviously drunk". She told the officers that she wanted her children removed from her mom and explained that she had become angry at them for refusing to remove cell phone chargers from wall plugs when they were not in use, as she believed leaving them in would run up her electricity bill, according to the complaint. 
She told officers that after she removed the chargers, her son had grabbed her and "just started wrestling me or whatever," and her daughter had also made contact with her. Officers asked her to fill out paperwork and continued talking to her for about 26 minutes. At one point, they radioed a "Code 4" meaning the situation was under control. Then they approached Pope's room. 
There, the complaint says that Walls told Pope that he was under arrest and to stand up. Pope responded by saying that his mother had assaulted him and that she was drunk. He asked officers to verify this with his sister, who was in a room down the hall. 
Walls ignored Pope and told him to stand up. After about 25 seconds of discussion, Pope began to stand up when Walls grabbed his wrist, and Pope protested, saying officers shouldn't touch him in his own house, the complaint says. 
According to the complaint, that's when Chauvin rushed into the room while holding a large metal flashlight in his right hand. Without saying anything or issuing any commands, Chauvin struck Pope on the head with the flashlight. 
Pope screamed out in pain and fell backward. Chauvin struck him a second time. Pope, his mother and his sister all screamed. According to the complaint, Chauvin then made a C-shape with his left hand, and grabbed Pope around the throat, pinning him against a wall. 
"Defendant Chauvin screamed at him to get down on the floor. It was impossible for John to comply while he was being held against the wall in this fashion," the complaint says. 
Chauvin then struck Pope in the head with the flashlight at least two more times while his mother pleaded with officers, asking them  "not to kill her son," at least four times, according to the complaint. 
Chauvin called out "tase him" four times. Less than a minute had gone by. Chauvin, who was sitting on the flood behind Pope, then placed him in a choke hold by wrapping his left arm around Pope's neck from behind and locking it tightly in place with his right arm.
At this point, the office's body cams show that Pope was struggling to breathe, according to the complaint, when "defendant Chauvin then executed his signature move: he pinned John to the floor with his body weight, pressing his left knee into John's upper back and neck… He also pushed his left hand into his knee to press down on John with even greater force."
The video shows pinning Pope in this manner for 15 minutes. During that time, Pope was subdued and not resisting and repeatedly cried out in pain and said that he "could not breath," the complaint says. The video shows that Pope's mother also pleaded with Chauvin to remove his knee from her son's neck and back at least eight times. 
Officers handcuffed Pope, who lost consciousness. Other officers arrived but did not intervene. Chauvin continued pressing his knee into the back of Pope's neck and continued to do so even after paramedics arrived. 
Pope regained consciousness, and Chavuin removed his knee before standing him up. Pope was taken to juvenile detention center where he was charged with fifth-degree domestic assault and obstructing legal process with force, but all charges against him were eventually dropped. 
See the complaint here:
Zoya Code 
Code's case stems from an encounter she had with MPD on June 25, 2017, when Chauvin and his partner Ross Blair were dispatched to a home on Oakland Avenue South in Minneapolis at 5:30 p.m. for a report of a domestic dispute. 
Code's mother had called police alleging she had assaulted her and strangled her with an extension cord. 
Code left the residence but returned after the officers arrived and walked into the living room, near Chauvin, who spun her around, and began to place her in handcuffs, the complaint says. 
There was a brief struggle between the officers and Blair as they handcuffed her, but at no point did Code "pose an immediate threat to the defendant officers," the complaint says. The only way Code resisted the officers at that point was by refusing to stand up, it says. 
Chauvin, the complaint says, began applying upward force to Code's handcuffed arms after Code had said "This is how Black people get treated," according to the complaint. 
Chauvin then carried Code outside by her arms while Blair held her feet. Once in front of the house, Chauvin slammed Code's head to the ground before he began kneeling on the back of her neck, according to the complaint.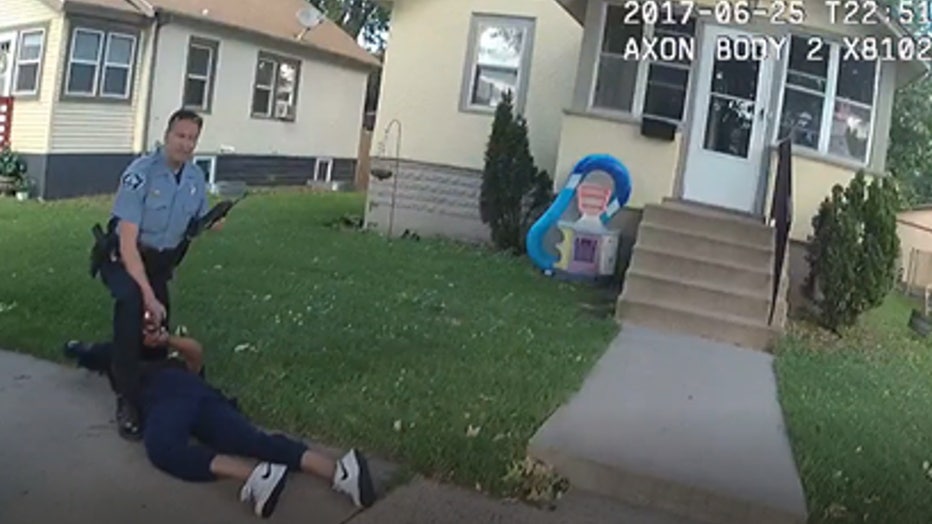 Derek Chauvin kneels on the back of Zoya Code's neck on June 25, 2017. (Image taken from the complaint)
Chauvin asked Blair to get a "hobble" from their squad car, a device "limiting a person's motion by tethering her legs together and securing them to her waist." Chauvin continued to apply his knee to Code's neck for more than a minute after the hobble was applied, the complaint says. 
After 4 minutes and 41 seconds, Chauvin removed his knee and carried Code to his squad car by one of her arms. 
An MPD supervisor, Sergeant Tammy Werner, later "reviewed and approved" the officer's use of force against code, the complaint says.
See the complaint here:
Code addressed this at a protest last April: