Grammys 2023: Dr. Jill Biden honors Iranian singer, presents Song of the Year to Bonnie Raitt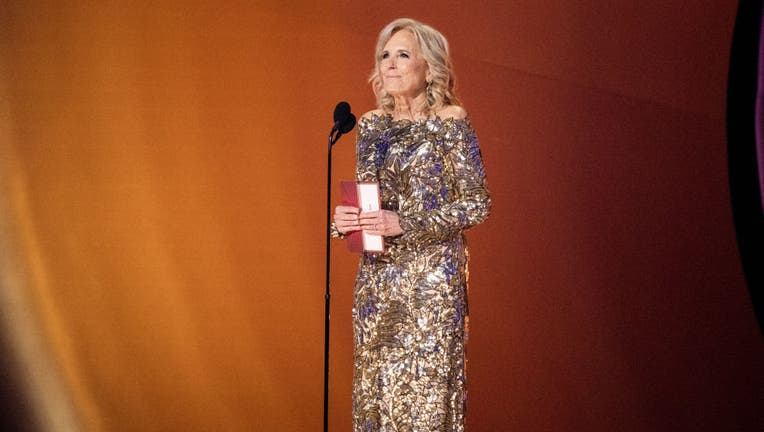 article
LOS ANGELES - First Lady Dr. Jill Biden was in the Los Angeles area Sunday to attend the Grammy Awards as a presenter for two categories.
That evening, she announced Bonnie Raitt as the winner. Cameras then showed a shocked Raitt as she remained in her seat for a few moments, her mouth agape.
When Raitt made her way to the stage, she said she was "totally humbled," while adding, "I'm so surprised. I don't know what to say. This is just an unreal moment."
Biden also presented a new Grammy for Best Song for Social Change. It went to Iranian singer-songwriter Shervin Hajipour for his song "Baraye," which Biden described as a "powerful and poetic call for freedom and women's rights."
Biden arrived at Hollywood/Burbank Airport aboard Executive One Foxtrot at 3:06 p.m. Saturday from Camp Pendleton in the Oceanside area, where she told an audience that she was proud of the U.S. military after U.S. jets shot down a suspected Chinese spy balloon off the Carolina coast.
"We're more aware of the military when we're in times of war, but now we're in times of peace," Biden said. "I mean, I felt such a sense of pride about the effort and that our military shot down the balloon, how coordinated it was, how thoughtful it was."
"That it was decided to wait until it was over water so that civilians weren't affected," Biden continued. "I hope that most Americans — I hope when they watch that they really think about our military ... Joe and I think about them every day, we pray for them in our prayers at dinner."
RELATED: Grammys 2023: Viola Davis gets EGOT status after win for audiobook
Biden made the comments while visiting The Steven A. Cohen Military Family Clinic to participate in a roundtable discussion with military family members, Cohen Veteran Network leaders and staff, and representatives of U.S. Marine Corps base at Camp Pendleton.
The first lady had earlier been announced as one of the presenters at Sunday's 65th Annual Grammy Awards, which was held at the Crypto.com Arena. Other presenters include Cardi B, James Corden, Billy Crystal, Viola Davis, Dwayne Johnson, Olivia Rodrigo and Shania Twain.