Investigation underway after man found dead in tent at Minnehaha Park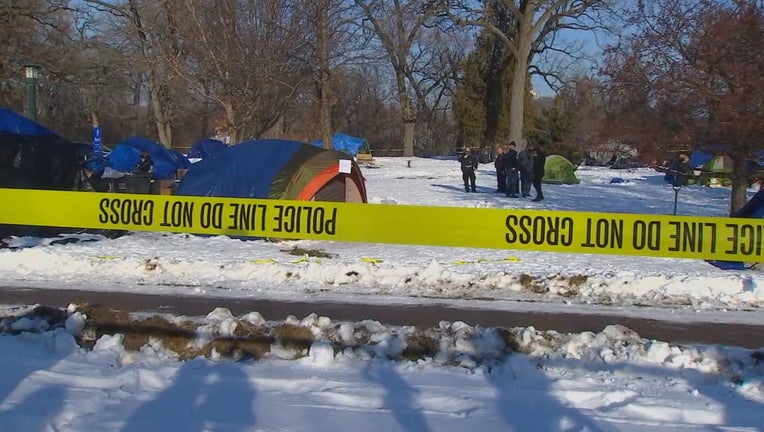 article
MINNEAPOLIS (FOX 9) - Minneapolis Police say an investigation is underway into the death of a man at an encampment at Minnehaha Park.
Officers from Minneapolis Park Police and the Minneapolis Police responded just after 12:15 p.m. for the welfare check of a man found in a tent on the 4900 block of South Minnehaha Park Drive, north of the falls.
When officers arrived, they say they found a man who had suffered "obvious trauma." He was pronounced dead at the scene.
Police have now launched an investigation to determine how the man was killed.
Officers are also attempting to locate people from the encampment. Police say some people left the area when they arrived, believing officers were part of an effort to disband the encampment.
"We believe that there are witnesses to what may have happened or transpired or people that will at least have information, but they left," said police spokesperson John Elder.
The camp has been at the location since November and was in the process of being cleared by the city. 
"They were working on the demobilization of it during the previous week and the upcoming week so yes this is one that was being worked on," said Elder. 
Volunteers from a local group called Twin Cities Relief have been at the camp helping people who live there to figure out what to do next. 
"These men and women don't have a choice whether safe or not," said Ronnie Guy. "They have nowhere to go. This is rock bottom for them. This is where they're at." 
Guy has been passing out food and coats to people. 
"It saddens me because we got to know these individuals over the past few months," Guy added. 
He said, while he feels safe being at the park, he knows these spaces aren't always safe for people to live in. 
"It's not safe at all," said Guy. "You wouldn't want your mom and dad, your brother, your sister down here. I wouldn't want my neighbor down here." 
Guy is hoping that people find the hep they need to get out of situations like the one at Minnehaha Park. 
Anyone with information on the case is asked to call the homicide unit at 612-673-2941 or CrimeStoppers at 1-800-222-TIPS.