Hopkins house explosion: Gas leak from faulty installation likely the cause
HOPKINS, Minn. (FOX 9 - The Hopkins Police Department says an unattached gas line was the cause of the deadly house explosion in the city that killed two people last month. 
In a press release, police say a newly installed hot water heater's gas line was not properly attached, allowing the home to fill with gas.
The release did not specify what they believe caused its ignition. The Hopkins Fire Department says the home explosion in late July that took the lives of Herb and Sharon Vassar, both in their eighties, is now ruled an accident and an unattached gas line is the cause.
But it was not the exact gas line that was initially in question.
When the home on 21st Avenue North abruptly exploded on the morning of July 27th, there were immediate questions about the water heater that Herb had just replaced.
His granddaughter, Alyssa Kennedy, said so in an interview with Fox 9 that afternoon.
"Now, he was a carpenter for 60 years, so he knows how to do things like that," Kennedy told us that day.  "But, he was 85. We wonder if he maybe just didn't tighten something enough."
Last Friday, Hopkins Fire and an insurance investigator went into the debris to take a closer look at the basement.  They found the copper gas line to the clothes dryer was not connected.
"It was fully intact," said Hopkins Fire Chief Dale Specken.  "But not connected."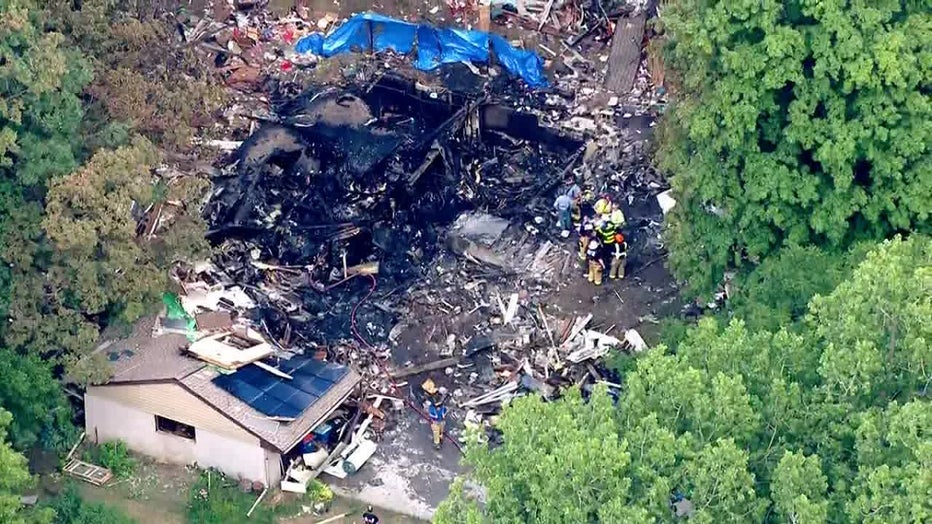 Arial shot of the remains of a house following an explosion.  (FOX 9)
Asked if the explosion would have disconnected it?  "No, no. It would not have."
What they surmise is that Herb had to move the dryer out of the way to replace the water heater.  When he slid it back into position, after installing the heater, he inadvertently missed reconnecting the dryer to its own gas line.
"And then turned the valves on, subsequently pumping gas into the basement which later caused the explosion," said Chief Specken. 
Specken also says the way the basement was built, with its own entrance, it's likely the smell of gas remained contained to that level and harder to notice on the main level.
This conclusion is from the Hopkins Fire Department.  The State Fire Marshal is still working on their investigation and say their findings, which rely on more detailed lab analysis, may still be a month or more away.
Specken says it's important to have someone experienced do any work in your home that involves gas lines.  For those who are experienced, like Herb Vassar, to pay close attention.   This, he says, was a simple but tragic mistake.
"In everything we had heard is that he had replaced a number of water heaters in his past," said Specken.  "And this was an accident and unfortunately caused the explosion and caused their deaths."