Second victim, driver in deadly Orono crash identified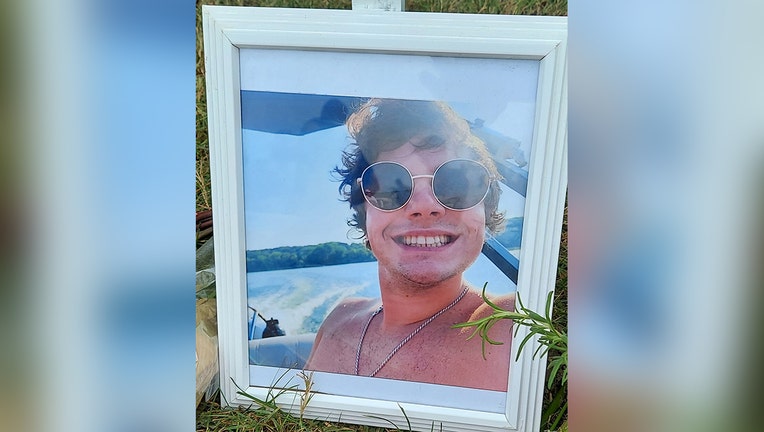 ORONO, Minn. (FOX 9) - The second victim who died in a crash in Orono, Minnesota over the weekend has been identified, as well as the driver who was critically injured. 
The second man who died has been identified as 24-year-old Sam Schuneman. He is from Maple Grove, Minnesota, but currently lives in Arizona, according to reports. Twenty-year-old Mack Motzko, the son of University of Minnesota men's hockey coach Bob Motzko, was also killed in the crash. Both men were wearing their seatbelts at the time of the crash. 
The Orono Police Department identified the driver of the vehicle that crashed as James Blue, 51, of Orono. He is being treated at North Memorial Hospital for critical injuries sustained in the crash. Police said he was not wearing a seatbelt and was ejected from the vehicle when it crashed. 
Orono police said at 11:47 p.m. Saturday, officers responded to a deadly crash near North Shore Drive and Bohns Point Road near Lake Minnetonka. Police said a speeding vehicle left the road, hitting several trees. 
When officers arrived they found Schuneman dead in the front passenger seat. Motzko and Blue were taken to North Memorial Hospital with critical injuries. Motzko was reportedly in the back seat of the vehicle when the crash occurred. He was pronounced dead at the hospital. 
Property records show Blue lives a few houses down from the crash site on North Shore Drive. 
Friends of Schuneman gathered at the crash site on Monday, where a memorial to the victims has been growing. They said he will be greatly missed. 
"I love Sam so much," his friend, Rashed Elbaba said. "It sucks that he was taken from so soon from us, but he is in a better place now. Our memories will never die." 
Schuneman's friends said he was originally set to fly back to Arizona on Friday, but he stayed to spend more time in Minnesota with his loved ones.
"He just loved it all. He was just a Minnesota boy at heart," said Blake Neumann. "He loved being by the lake, doing Minnesota things."
The group left a photo of Sam at the crash site. It's the last picture they have of him, on the water with a giant smile on his face - which is exactly how they want to remember him. 
"I was with his dad yesterday. His dad said it best, 'Sam was always the happiest when with his friends'," Alex Orn, another of Schuneman's friends, said. "That just hit home with me. He really was." 
The Orono Police Department is investigating the crash with assistance from the Minnesota State Patrol and the Hennepin County Sheriff's Office. Police said it appears alcohol and speed were factors in the crash.