Eye drops recalled over non-sterility: FDA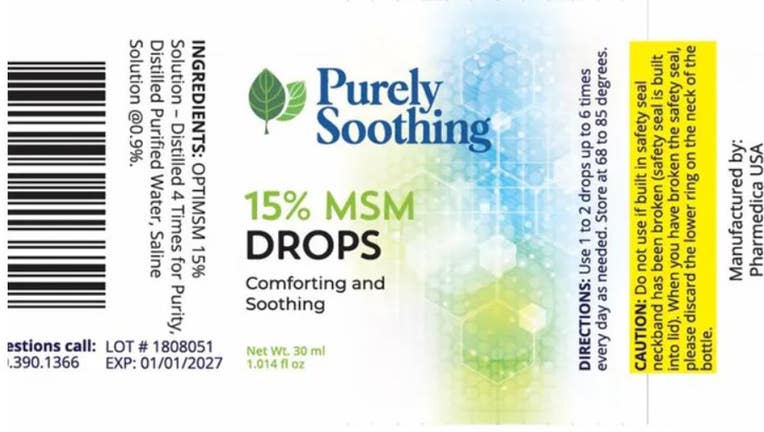 article
The U.S. Food and Drug Administration (FDA) posted a warning notice that certain eye drops are being recalled worldwide — the latest in a string of recent eye drop warnings. 
Pharmedica USA LLC voluntarily recalled two lots of its Purely Soothing, 15% MSM Drops due to non-sterility, according to the warning notice posted by the FDA. 
"Use of contaminated eye drops can result in the risk of eye infections that could result in blindness," the notice read.  
FDA WARNS ANOTHER EYE PRODUCT COULD BE CONTAMINATED WITH BACTERIA AMID OUTBREAK OF INFECTIONS
The recall drops are described as an anti-inflammatory that's "aimed to assist with symptoms of ocular irritation and/or swelling," according to the notice. 
The affected product was distributed around the world by Purely Soothing LLC though online e-commerce, including Amazon, and trade shows, according to the recall. The eye drops (LOT#: 2203PS01, 1 oz, UPC 7 31034 91379 9; and LOT#: 1808051, ½ oz, UPC 7 31034 91382 9) have eye dropper caps and white lids.
The company is urging customers to "immediately" stop using the product and to return it. Meanwhile, wholesalers and retailers are also told to "immediately" stop distributing the affected product and to either return it or confirm that it has been properly disposed of.  
There haven't been any reports of adverse events or illness related to this recalled product to date. 
However, this comes after several recalls over eye drops have been issued in recent weeks. 
EYE SPY A BIG PROBLEM: CALIFORNIA DOCTOR REMOVES 23 CONTACT LENSES FROM ONE WOMAN'S EYE
Last week, Apotex Corp., with the knowledge of the FDA, initiated a voluntary recall for select lots of Brimonidine Tartrate Ophthalmic Solution, 0.15% "out of an abundance of caution due to cracks that have developed in some of the units caps." The broken caps could impact "sterility and if so, the possibility of adverse events," the FDA said. 
Just before that, federal officials urged consumers and health care practitioners not to purchase or use Delsam Pharma's Artificial Eye Ointment and all lots within expiry of the EzriCare and Delsam Pharma's artificial tears products over possible contamination. 
There have been dozens of infections reported in multiple states that are possibly associated with the use of the artificial tears manufactured by Global Pharma Healthcare, according to the FDA.  
As of March 1, there have been a total of 64 people in 13 states infected with "an extensively drug-resistant strain of Pseudomonas aeruginosa," according to the Centers for Disease Control and Prevention (CDC).  
One person died, and eight others reported vision loss, according to the CDC. 
"Patients who have signs or symptoms of an eye infection should talk to their health care provider or seek medical care immediately," the FDA previously said. 
Eye infection symptoms may include yellow, green, or clear discharge from the eye; eye pain or discomfort; redness of the eye or eyelid; feeling of something in your eye (foreign body sensation); increased sensitivity to light and blurry vision, the CDC stated.