Derrick Rose brought to tears after remarkable 50-point performance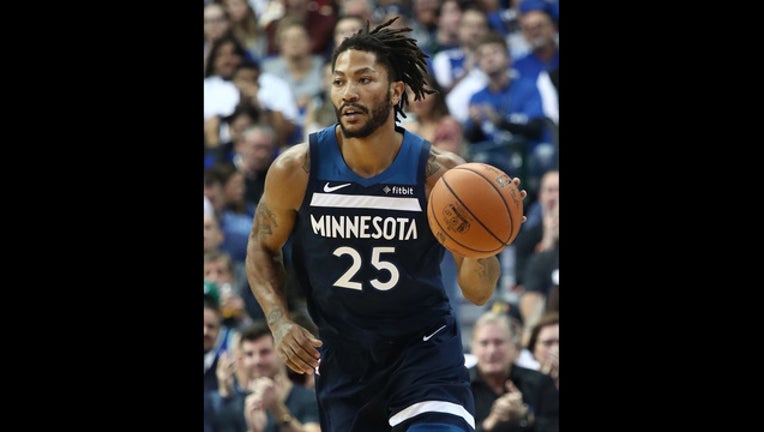 MINNEAPOLIS, Minn. (KMSP) - It takes a particular set of circumstances to bring an NBA player to tears after a regular season game in October, but Derrick Rose's 50-point performance at Target Center Wednesday night did just that.
Rose's particularly prolific game came against the Utah Jazz Wednesday, in which the Timberwolves  won 128-125. In addition to the scoring, Rose also made a crucial defensive play, blocking what would have been the game-tying shot in the waning seconds. 
The performance brought him to tears as his Timberwolves teammates rushed the floor to celebrate with the former Rookie of the Year, All-Star and league MVP.
The emotion from the Timberwolves guard was unsurprising after overcoming injury after injury in his career.
HIS CAREER
After winning MVP in the 2010/2011 season for the Chicago Bulls, Rose tore his ACL in the first game of the 2012 playoffs. He missed the entire 2012/2013 season due to that injury.
He returned in October 2013, but in November, Rose tore his right knee meniscus, causing him to miss the rest of the season.
He suffered another knee injury in the 2014/2015 season and suffered another meniscus tear of his right knee, costing him most of the rest of the season.
In 2015/2016, Rose fractured his left orbital bone and wore a facemask the rest of the season in what would be his last with the Bulls.
Rose was traded to the Knicks for the 2016/2017 season. He tore his left knee meniscus in April, necessitating his fourth career knee surgery.
He signed with the Cleveland Cavaliers for 2017/2018 and openly contemplated retirement during his time there. Late in the season, Rose was acquired by the Utah Jazz in a three-team trade, only to be waived by Utah days later.
It wasn't until March 2018 that Rose signed with the Timberwolves for the remainder of the season. He re-signed with the Timberwolves this off-season.