Death of Khalil Azad: Police release bodycam video; family asks for more transparency
ROBBINSDALE, Minn. (FOX 9) - Police released bodycam footage Tuesday afternoon that appears to show officers unsuccessfully searching for Khalil Ahmad Azad after he allegedly ran away after crashing a SUV following a police pursuit last summer, two days before a bystander spotted his body near the shore of Crystal Lake.
The Robbinsdale Police Department released several hours of footage from three officers who responded to the scene along with dashcam video from squads, showing them on scene as they searched for Azad, a 24-year-old who was a soon-to-be father at the time of his death. Police say Azad had fled on foot after losing control of and then crashing his car following a brief police chase, with the crash occurring about a block away from the lake.
Dashcam video shows the chase, with the vehicle going into opposite lanes County Road 81 at 40th Avenue North, before the car goes off the road and onto Lakeland Avenue North.
Azad does not appear in the footage released by police. The video does show officers going through Azad's vehicle and speaking with two other people in Azad's vehicle – who remained at the scene.
The officers are heard discussing setting up a perimeter on neighboring streets and running a flashlight through the brush near the lake. Later, an officer inquires about bringing a canine dog in to assist with the search.
With the video release, the Minnesota BCA confirmed its Force Investigation Unit will examine Azad's death at the request of the Robbinsdale Police Department.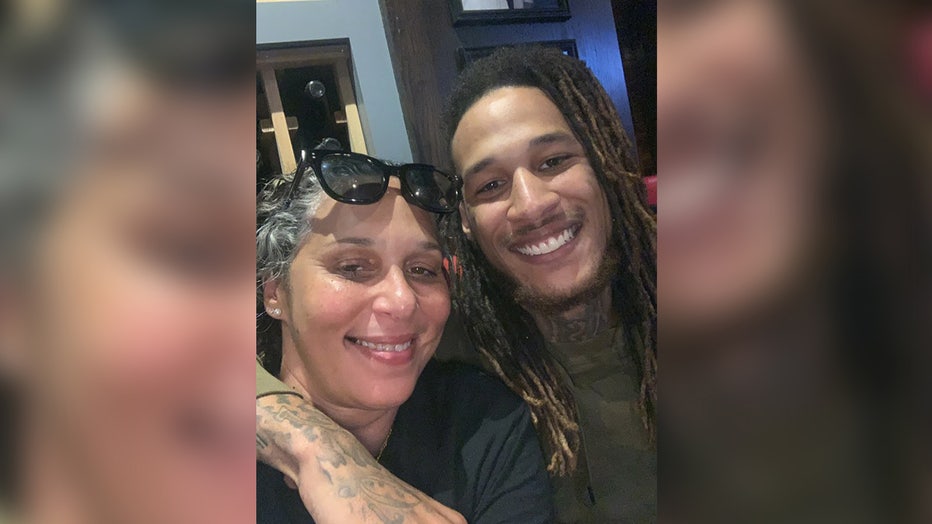 Khalil Ahmad Azad with his mother Fatomeh Azad. (Image provided)
Family response 
The family, together with a collocation of advocacy groups supporting them —Minnesota Teen Activists, Family Supporting Families Against Police Violence and MN Wrongfully Convicted Judicial Reform — issued a statement in response to the release of the video, saying they believed key footage was left out, including the moments leading up to the initial traffic stop, and the body cam footage from officers who had helped secure the perimeter. 
"…the claim from Robbinsdale police is that Khalil Ahmad Azad was pursued due to driving while intoxicated. Khalil Ahmad Azad was in fact suffering from driving while black. We believe there was no probable cause for Robbinsdale police to initially pursue Khalil, he had not broken any laws while driving," the statement read. 
Azad's family and activists have questioned the circumstances of Azad's death and said photos of his body after it was recovered from the lake showed what they believed to be injuries and dog bites that could have been infected by police. 
Organizers with MN Teen Activists, a student social justice advocacy group that organized a rally and statewide walkout for Azad on Monday, said they were pushing for "more transparency," including:
The release of all video footage connected to the case: body camera footage, dash camera footage, traffic light footage and helicopter footage
An independent investigation of all agencies involved
An independent investigation into the policies and practices of the Hennepin County Medical Examiner's Office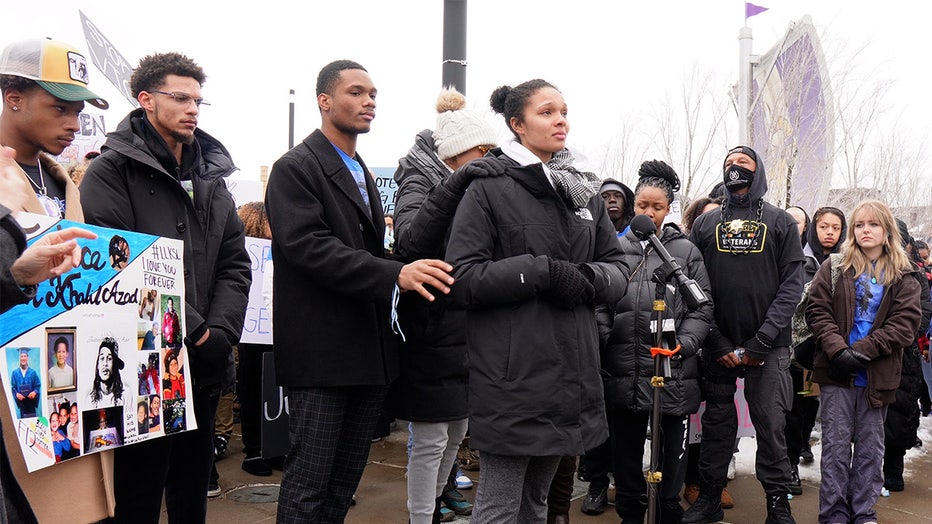 Ayisha Johnson, the sister of Khalil Ahmad Azad, is comforted by her mother and a student organizer during a press conference and rally held in downtown Minneapolis on Monday. (Jared Goyette / FOX 9)
Police timeline 
Last week, Robbinsdale PD asked the Minnesota Bureau of Criminal Apprehension (BCA) to conduct its own investigation of the case. 
Robbinsdale Police claim at 1:27 a.m. on July 3, 2022, officers attempted to pull Azad over on the 4200 block of County Road 81, and he took off with two passengers in the car — his friend and his brother. 
According to police, officers pursued, and Azad lost control of the vehicle, hit a curb and bushes, and then fled on foot.
Police say they then interviewed the passengers, and a Minnesota State Patrol helicopter used a thermal imaging system to search for Azad but did not locate him. 
At 1:48 a.m., police say a K9 unit from the Plymouth Police Department was brought in to help with the search, but also did not find Azad. Police say they ended the search at roughly 2:20 a.m. 
Police say after Azad fled on foot, no officer or police dog had any contact with him. 
A grieving family 
Azad's family is still grieving his loss. His sister, Ayisha Johnson, told the crowd at the rally Monday that Azad's daughter was born two months after his death.
"He always made sure to tell us, take care of his daughter, so we get to cherish his daughter," she said. "He's still here with us. He appreciates everyone. I know that. I know that he appreciates everyone. He's here, and I know he's okay."
Full statement from Azad's family
"We, the family of Khalil Ahmad Azad, Minnesota Teen Activists, Family Supporting Families Against Police Violence, MN Wrongfully Convicted Judicial Reform, and supporting community members are coming forward in response to the footage released by Robbinsdale Police Department, March 7th, 2023.
We'd like to begin by expressing our concern about potential violation of our Minnesota Data Practices rights. The mother of Khalil Ahmad Azad requested the body camera footage in September of 2022. It wasn't until March 6th, 2023 that the family was able to view the body camera footage and dash camera footage at Robbinsdale Police City Hall. Unfortunately, we were unable to have many of our questions answered because the only individuals present during the time of watching the body camera and dash camera footage were three members of the Joint Community Police Partnership, a Hennepin County agency geared towards supporting affected community members.
While watching the body camera footage and dash camera footage, we believe there may have been additional Robbinsdale police officers on the scene than what was written in the Robbinsdale Police Report. Furthermore, the claim from Robbinsdale police is that Khalil Ahmad Azad was pursued due to driving while intoxicated. Khalil Ahmad Azad was in fact suffering from driving while black. We believe there was no probable cause for Robbinsdale police to initially pursue Khalil, he had not broken any laws while driving. Unfortunately, the dash camera footage presented to us on March 6th, 2023 did not show us the moments before the high-speed pursuit began.
While watching the body camera footage a number of discrepancies also stood out to us. We were presented with a total of four body camera and dash camera footage laid out on a grid. It was nearly impossible to focus on one camera at a time. The footage was inaudible because they were all playing simultaneously. We also noticed parts of the audio cut out for significant amounts of time. In addition, we noticed skips, pauses, and freezes of the body camera footage, with multiple moments of blurriness. Which leads us to believe that the original footage was tampered. We are concerned because there were absolutely no time stamps on the footage we watched.
We want to know what exactly happened to Kahlil Ahmad Azad on the night of July 3rd, 2022. According to the Robbinsdale police report, the officers involved were unable to identify who the suspect was nor find the suspect during the search. The passengers who were in the vehicle did not give Robbinsdale Police Department officers Khalil Ahmad Azad's full name. However, not only did we hear reference of Khalil's name on body camera footage, we also heard dogs barking while officers shouted "get on the ground…put your hands up…identify yourself, or else we will release the dogs." We are concerned by the verbal exchanges we heard from officers on the scene, and we want answers to what officers were referring to in their conversations.
We want full transparency about the agencies who were called to secure the perimeter. We have yet to see body camera footage from New Hope, and Crystal officers who also secured the perimeter of Crystal Lake. In light of the footage we received from Robbinsdale Police Department, we are also demanding footage from additional agencies involved: New Hope, Crystal, Plymouth, and Hennepin County Sheriff's Department & State Trooper Patrol (helicopter). Including the dispatch audio from all agencies involved."