Complete list of Inauguration Day and weekend protests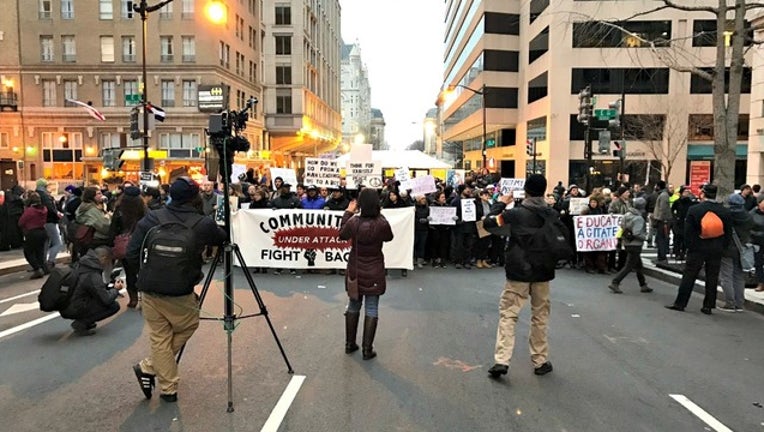 article
WASHINGTON - As thousands gather in Washington to celebrate the Inauguration of President-Elect Donald Trump, countless others prepare to protest the transition of power. 
Here are the protests happening on Friday, January 20 and Saturday, January 21.
Inauguration Day: 
#DisruptJ20: #Disrupt20 will be holding several events in Washington to protest Trump's Inauguration, but the largest is a family-friendly march that will begin at 2 p.m.  It is called the "Festival of Resistance," and follows the group's protest at the January 19 "Deploraball." 
#J20 Resist: According to the group's Facebook page, #J20Resist will converge at Union Station between 6 and 10 a.m. and then march to the White House. The march will conclude at McPherson Square, just one block from the White House. 
Equality Coalition's March on Inauguration: The coalition and Occupy Inauguration joined forces for this march, which begins Friday at 9 a.m. at Malcolm X Park in Northwest and proceeds to McPherson Square for a 2 p.m. rally. 
It's Going Down: The organizers of this event are encouraging participants to wear all black and meet in Logan Circle to "stand up to the Trump regime." 
Out of the Closet, Into the Streets: According to Facebook, WERK for Peace and DisruptJ20 will be staging a "queer anti-Inauguration party" at a security checkpoint in McPherson Square. The event will feature dancing, "glitter, rainbow flags, face paint" and much more. 
The Inaugural #Trump420: This headline-making group of protesters began gathering at Dupont Circle at 8 a.m. and passed out 4,200 joints of cannabis to participants 21 and older. The group then plans to light their joints approximately four minutes and 20 seconds into President Trump's Inauguration speech.
January 21: 
The Women's March on Washington: The largest protest on Saturday is the Women's March on Washington, which is expected to bring thousands of protesters into the city. The event runs from 10 a.m. to 5 p.m. and begins at the intersection of Independence Avenue and 3rd Street Southwest. Click here for what you need to know if you are planning to attend.