City and law enforcement union reach agreement to save Forest Lake Police Department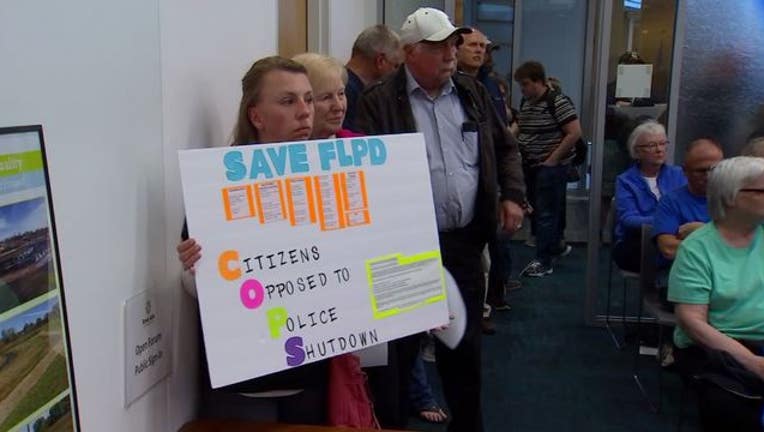 article
FOREST LAKE, Minn. - The City of Forest Lake is no longer moving to have Washington County take over its policing services, according to a joint press release from Forest Lake, the county and Law Enforcement Labor Services, the union representing Minnesota police officers.
A deal was struck Wednesday between LELS and the city to prevent the department from disbanding, following weeks of protests from hundreds of citizens and police officers who were opposed to the measure.
The three-year agreement, which will be presented to the City Council May 15 and is subject to approval by the police union, includes a two percent salary increase for officers this year and next year, maintenance of retiree benefits--a concern brought up in previous discussions--and outlines a process to reach long-term financial stability while communicating development progress to all stakeholders.
Sean Gormley, Executive Director of Law Enforcement Labor Services, and Forest Lake City Administrator Aaron Parrish met Wednesday morning to hash out a deal, ultimately finalizing the agreement that evening with County Commissioner Fran Miron and Washington County Sheriff Dan Starry. 
"I could not be happier for our members. This solution allows them the opportunity to serve the
community they love," Gormley said in the statement. "Further, our members look forward to participating in the healing process for all parties. I am confident we will have positive outcomes for all involved."
High school students walked out of class Tuesday and walked to city hall in a last-ditch attempt to sway the mayor and council members, who voted 3-2 Monday night to disband the police department--with Mayor Ben Winnick breaking the tie. 
City Council member Mara Bain, who voted against the original measure, posted a jubilant message on Facebook confirming the news.
The measure was up for final approval at a Washington County Commissioners' meeting next week, but since the agreement was struck the board has removed the contract from the agenda for its next meeting Tuesday.