Churchill Downs suspends operations following 12 horse deaths, moves meets to Ellis Park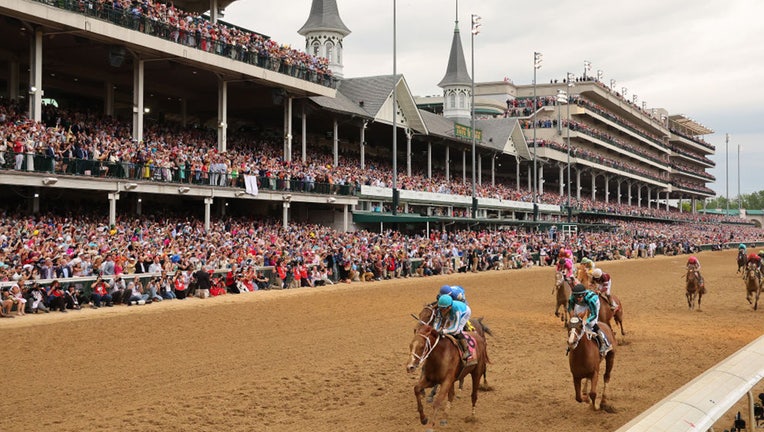 article
Churchill Downs will suspend racing operations on Wednesday and move the remainder of its spring meet to Ellis Park in order to conduct a "top-to-bottom" review of safety and surface protocols in the wake of 12 horse fatalities the past month at the home of the Kentucky Derby.
No single factor has been identified as a potential cause for the fatalities or pattern detected, according to a release, but the decision was made to relocate the meet "in an abundance of caution."
"What has happened at our track is deeply upsetting and absolutely unacceptable," Churchill Downs Inc. CEO Bill Carstanjen said in Friday's release. "We need to take more time to conduct a top-to-bottom review of all of the details and circumstances so that we can further strengthen our surface, safety and integrity protocols."
Racing will continue at Churchill Downs through Sunday before shifting to the CDI-owned racing and gaming facility in Henderson, Kentucky. Ellis Park's meet was scheduled to start July 7, four days after the scheduled close at Churchill Downs, and run through Aug. 27 but will now expand with Friday's announcement.
Ellis Park will resume racing on June 10.
The move comes a day after track superintendent Dennis Moore conducted a second independent analysis of Churchill Downs' racing and training surfaces as part of an emergency summit called this week by the Horseracing Integrity and Safety Authority (HISA) with the track and the Kentucky Horse Racing Commission. Meetings took place in Lexington, Kentucky, and at the Louisville track.
Also on Friday, the KHRC said Kentucky Thoroughbred Development Fund purses will be limited to the top five finishers. It also granted HISA oversight of racetrack safety.
The head of the federally created oversight agency suggested ahead of the summit that it could recommend pausing the meet and that Churchill Downs would accept that recommendation.
RELATED: Emergency summit called after multiple horse deaths at Churchill Downs
Churchill Downs' release stated that expert testing raised no concerns and concluded that the surface was consistent with the track's prior measurements. Even so, it chose to relocate "in alignment" with HISA's recommendation to suspend the meet to allow more time for additional investigation.
"We appreciate their thoughtfulness and cooperation through these challenging moments," HISA CEO Lisa Lazarus said in a statement. "We will continue to seek answers and work with everyone involved to ensure that horses are running safely at Churchill Downs again in the near future."
Carstanjen insisted that relocating the remainder of the spring meet to Ellis Park would maintain the industry ecosystem with minor disruption. He also said he was grateful to Kentucky horsemen for their support as they work to find answers.
Rick Hiles, the president of Kentucky Horsemen's Benevolent and Protective Association, questioned the move, especially since there's no conclusive evidence that Churchill Downs' surface is the problem.
RELATED: 2 more horses die at Churchill Downs; total stands at 12 at home of Kentucky Derby
"We all want to find solutions that will improve safety for horses," Hiles said in a statement. "However, we need to discuss allowing trainers and veterinarians to use therapeutic medications that greatly lessen the risk of breakdowns.
"Drastic steps, such as relocating an active race meet, should only be considered when it is certain to make a difference."
The latest development comes a day after Churchill Downs and HISA each implemented safety and performance standards to address the spate of deaths.
HISA will conduct additional post-entry screening of horses to identify those at increased risk for injury. Its Integrity and Welfare Unit also will collect blood and hair samples for all fatalities for use while investigating a cause.
Churchill Downs announced it would immediately limit horses to four starts during a rolling eight-week period and impose ineligibility standards for poor performers. The track is also pausing incentives, such as trainer start bonuses and limiting purse payouts to the top five finishers instead of every finisher.