China offers peace proposal to end conflict in Russia-Ukraine war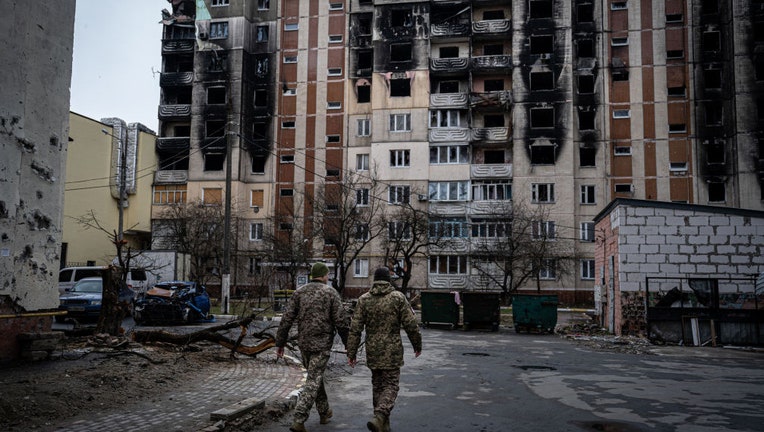 article
TAIPEI, Taiwan - One year into Russia's war against Ukraine, China is offering a 12-point proposal to end the fighting.
The proposal follows China's recent announcement that it is trying to act as mediator in the war that has re-energized Western alliances viewed by Beijing and Moscow as rivals. China's top diplomat indicated that the plan was coming at a security conference this week in Munich, Germany.
With its release, President Xi Jinping's government is reiterating China's claim to being neutral, despite blocking efforts at the United Nations to condemn the invasion. The document echoes Russian claims that Western governments are to blame for the Feb. 24, 2022 invasion and criticizes sanctions on Russia.
RELATED: Ukraine's Volodymyr Zelenskyy pledges push for victory on anniversary of Russian invasion
At the Munich meeting, U.S. Secretary of State Antony Blinken expressed skepticism about Beijing's position before the plan's release. He said China has provided non-lethal assistance that supports Russian President Vladimir Putin's war effort and said the U.S. has intelligence that Beijing is "considering providing lethal support." China has called the allegation a "smear" and said it lacks evidence.
What has China proposed?
China's proposal calls for a cease-fire and peace talks, and an end to sanctions against Russia.
China placed responsibility for sanctions on other "relevant countries" without naming them. These countries, it says, "should stop abusing unilateral sanctions" and "do their share in de-escalating the Ukraine crisis."
Many of the 12 points were very general and did not contain specific proposals.
Without mentioning either Russia or Ukraine, it says sovereignty of all countries should be upheld. It didn't specify what that would look like for Ukraine, and the land taken from it since Russia seized Crimea in 2014.
RELATED: US says Russia has committed crimes against humanity in Ukraine
The proposal also condemns a "Cold War mentality," a term that often refers to the United States and the U.S.-European military alliance NATO. "The security of a region should not be achieved by strengthening or expanding military blocs," the proposal says. Russian President Vladimir Putin demanded a promise that Ukraine will not join the bloc before the invasion.
Other points call for a cease-fire, peace talks, protection for prisoners of war and stopping attacks on civilians, without elaborating, as well as keeping nuclear power plants safe and facilitating grain exports.
"The basic tone and the fundamental message in the policy is quite pro-Russia," said Li Mingjiang, a professor of Chinese foreign policy and international security at Singapore's Nanyang Technological University.
Does China back Russia in its war on Ukraine?
China has offered contradictory statements regarding its stance. It says Russia was provoked into taking action by NATO's eastward expansion, but has also claimed neutrality on the war.
Ahead of Russia's attack, Xi and Putin attended the opening of last year's Winter Olympics in Beijing and issued a statement that their governments had a "no limits" friendship. China has since ignored Western criticism and reaffirmed that pledge.
RELATED: Putin blames West for Ukraine war, defends invasion in major speech
Putin has said he expects Xi to visit Russia in the next few months. China has yet to confirm that.
China is "trying to have it both ways," Blinken said Sunday on NBC.
"Publicly, they present themselves as a country striving for peace in Ukraine, but privately, as I said, we've seen already over these past months the provision of non-lethal assistance that does go directly to aiding and abetting Russia's war effort."
Has China provided support to Russia?
China's support for Russia has been largely rhetorical and political. Beijing has helped to prevent efforts to condemn Moscow at the United Nations. There is no public evidence it is currently supplying arms to Russia, but the U.S. has said China is providing non-lethal support already and may do more.
Blinken, at the Munich conference, said the United States has long been concerned that China would provide weapons to Russia. "We have information that gives us concern that they are considering providing lethal support to Russia," he said.
Blinken said he expressed to the Chinese envoy to the meeting, Wang Yi, that "this would be a serious problem."'
RELATED: Biden makes unannounced visit to Ukraine: 'One year later, Kyiv stands'
NATO's chief said Wednesday he had seen some signs that China may be ready to provide arms and warned that would be it would be supporting a violation of international law.
Russian and Chinese forces have held joint drills since the invasion, most recently with the South African navy in a shipping lane off the South African coast.
Ukraine's defense minister Oleksii Reznikov expressed doubt about China's willingness to send lethal aid to Russia.
"I think that if China will help them … it will not (be) weaponry. It will (be) some kinds of like clothes," Reznikov said in Kyiv Monday.