Bullfrogs for dinner? Utah wildlife officials want you to catch – and eat – this invasive species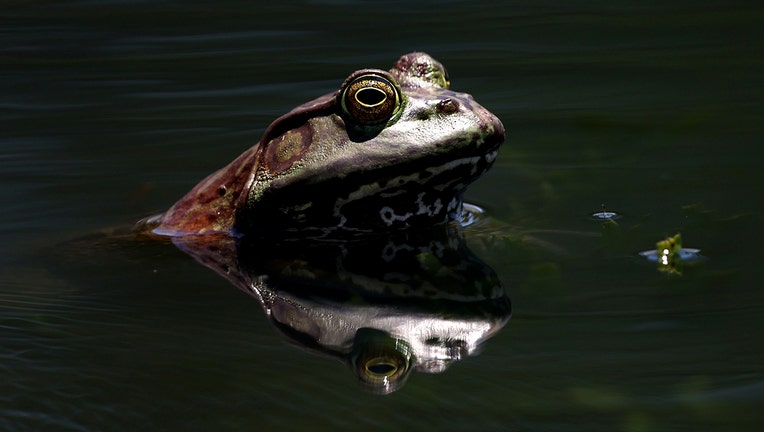 article
The Utah Division of Wildlife Resources is encouraging people to help out the environment by hunting – and even eating – bullfrogs. 
"Since it's National Invasive Species Awareness Week, it's a good time to remind you that bullfrogs are invasive to Utah, so you can catch as many as you want," the agency said Thursday on Twitter, adding, "And bonus: they're tasty." 
According to Lee Kay, a public shooting range facilities and grounds supervisor at Utah DWR, bullfrogs are an invasive species and are voracious predators in Utah that will eat almost anything, including snakes, fish, toads and mice.
Bullfrogs are typically green or gray-brown with brown spots and have easily identifiable circular eardrums — or tympanum — on either side of their heads, the agency explains. 
The largest of all North American frogs, bullfrogs can grow to a length of eight inches and can weigh up to 1.5 pounds. 
"So target the big ones — they have the most meat," Kay said in a 2019 blog post on the agency's website. "I think they taste like chicken, but a little chewier. Others think they taste like fish. So if you like chicken and fish like I do, you'll love the taste of frog legs." 
RELATED: Video shows frogs take over backyard pool after floods: 'I think I'll swim in the creek'
A license is currently not required to catch the frogs, but a fishing license is recommended. 
Most of the ponds and marshes along the Wasatch Front in Utah contain bullfrogs. They breed from late spring through early summer, during which time you'll hear males call together in a chorus. 
This story was reported from Los Angeles.