Biden, Brazil's Lula focus on democracy, climate during White House visit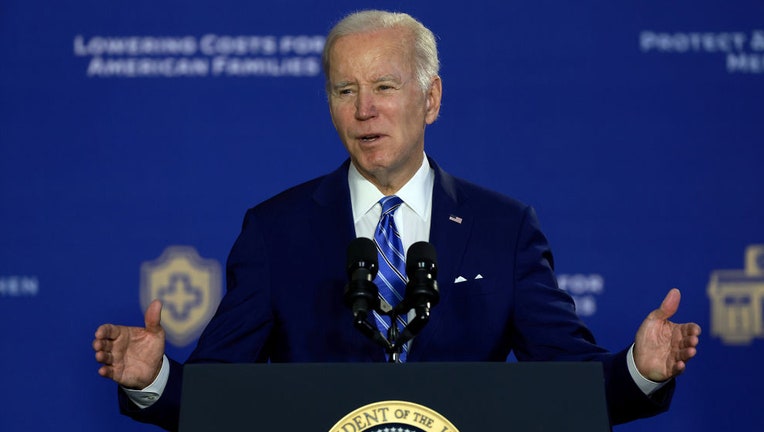 article
WASHINGTON - President Joe Biden welcomed Brazilian President Luiz Inácio Lula da Silva to Washington on Friday for wide-ranging talks on climate and strengthening democracies, an issue of shared importance after both leaders faced far-right mobs storming their governments' halls of power to try to overturn their election victories.
Biden defeated incumbent Donald Trump in a fraught 2020 race, securing victory with thin margins in several battleground states. In Brazil's recent election, its tightest since its return to democracy over three decades ago, Lula, the leftist leader of the Workers' Party, squeaked out a win against right-wing incumbent Jair Bolsonaro, who earned the nickname "Trump of the Tropics" and was an outspoken admirer of the former U.S. president.
Both Trump and Bolsonaro sowed doubts about the vote, without presenting evidence, but their claims nevertheless resonated with their most die-hard supporters. In the U.S. Capitol, Trump supporters staged the Jan. 6, 2021, insurrection seeking to prevent Biden's win from being certified. Last month, thousands of rioters stormed the Brazilian capital aiming to oust the newly-inaugurated Lula.
"Both our nations' strong democracies have been tested of late ... very much tested," Biden said at the start of their Oval Office meeting. "But both in the United States and Brazil, democracy prevailed."
RELATED: Biden says new spending cements US commitment to fighting global warming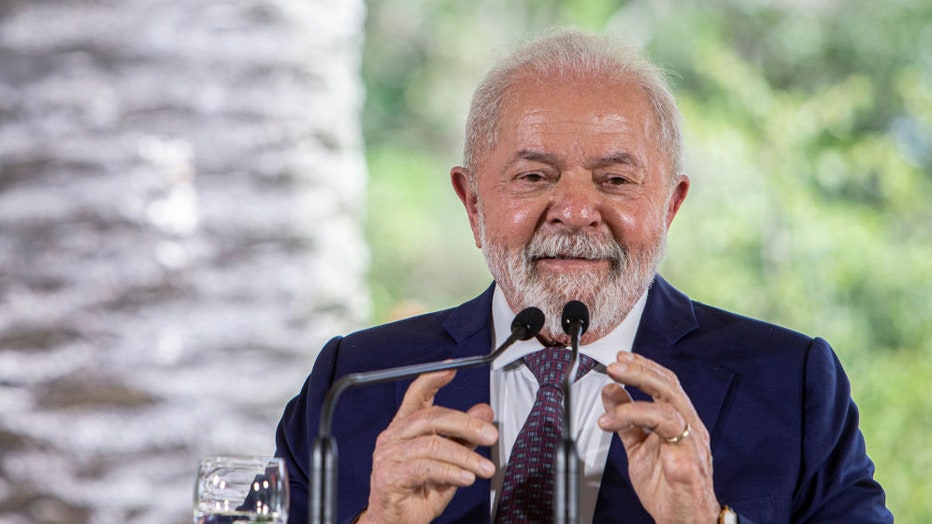 Luiz Inácio Lula da Silva president of Brazil speaks during an official visit to Uruguay on January 25, 2023 in Montevideo. (Ernesto Ryan/Getty Images)
Lula said that he was moving to restore Brazil on the world stage after Bolsonaro's term.
"Brazil marginalized itself for four years," Lula said. "His world started and ended with fake news."
Biden joked that Lula's complaint "sounds familiar," an apparent knock on Trump.
Earlier Friday, Lula told CNN that Brazil does not have a "culture of hate," but certainly a sharp divide similar to that in the United States.
"Here there's also a split that's much more, or as serious, as in Brazil – Democrats and Republicans are very divided," Lula said.
RELATED: Brazil's Lula sworn in as president amid a polarized country
The Oval Office talks come just over a month after Lula's swearing-in and the failed attempt to topple his presidency. Both sides are looking to spotlight that Brazil's democracy remains resilient and that relations between the Americas' two biggest democracies are back on track.
The leaders also planned to discuss Russia's invasion of Ukraine, insecurity in Haiti, migration and climate change, including efforts to stem deforestation of the Amazon, according to the White House.
During his 2020 run for the White House, Biden proposed working with global partners to create a $20 billion fund that would encourage Brazil to change its approach to the Amazon. The White House is expected to announce plans to contribute to the multilateral climate effort known as the Amazon Fund during the visit, according to a person familiar with the decision. The person spoke on the condition of anonymity because an announcement hasn't been made.
The official noted that Biden's special envoy for climate, John Kerry, is expected to soon travel to Brazil.
The Amazon Fund is the most important international cooperation effort to preserve the rainforest, raising donations for efforts to prevent, monitor and combat deforestation and promote sustainability. It is managed by Brazil's state development bank, and has one committee to set guidelines and monitor the results, and another to certify the effectiveness of sponsored policies.
RELATED: Staggering number of animals, plants at risk of extinction in US, new report finds
The fund has mostly been financed by Norway. In 2019, Bolsonaro dissolved the steering committee that selects sustainable projects to finance. He argued the rainforest is a domestic affair. In response, Germany and Norway froze their donations.
After Lula took office, Germany's government announced it will make 204 million euros ($222 million) available for environmental policies in Brazil. Of this total, $38 million is a donation to the Amazon Fund.
The two leaders previously met face-to-face in 2009 when Biden was vice president during Lula's first go-round as Brazil's president from 2003 to 2010. Lula later spent 580 days in prison on corruption charges but the conviction was annulled in 2021 on procedural grounds and the Supreme Court later ruled the judge had been biased.
Climate was a prominent topic in two recent phone calls between the leaders since Lula's October victory, according to the White House.
RELATED: Feds send $930 million to curb 'crisis' of wildfires in West
Lula's biggest objective going into the visit was securing ringing support for the legitimacy of his presidency as unease continues at home. It remains unclear how the animus Bolsonaro generated will be channeled going forward, and some opposition lawmakers allied with the former president are already calling for Lula's impeachment. Lula sacked the army's commander, with the defense minister citing "a fracture in the level of trust" in the force's top levels.
"You have the environment and other stuff, but Lula sitting down with Biden is an exercise in coup-proofing Brazil's democracy. It basically comes down to that," said Oliver Stuenkel, an international relations professor at the Getulio Vargas Foundation, a university and think tank. "There is still genuine concern in the Brazilian government about the armed forces, and the biggest partner in containing the armed forces is the United States."
Bolsonaro, who is facing several investigations in Brazil, traveled to Florida during the final days of his presidency and has remained there since. He applied late last month for a six-month tourist visa to extend his U.S. stay. A group of Democratic lawmakers urged Biden to expel the former president on the grounds that the U.S. shouldn't provide safe harbor to would-be authoritarians.
The White House and State Department have declined to comment on Bolsonaro's visa status, citing privacy concerns.
Biden stands ready to discuss Bolsonaro's presence in the United States should Lula raise it, according to the White House. Analysts have noted that Bolsonaro's absence from Brazil is a welcome change for Lula, and he told CNN he doesn't plan to discuss the former president with Biden.
Lula also met with several lawmakers, including Vermont Sen. Bernie Sanders, and union officials before his meeting with Biden.
"It is enormously important for the future of this planet that we stop the deforestation of the Amazon.," Sanders said interview after his meeting. "Bolsonaro encouraged that in a terrible way. Lula has turned that around, but Brazil is going to need help globally. The issue of the Amazon is not just a Brazilian issue. It's a global issue."
Even as Lula has been lauded for his democratic bona fides, he declines to criticize authoritarianism in Venezuela and Cuba, saying the nations are entitled to self-determination, and he often sides with their left-wing leaders.
That marks something of a departure from Biden's pro-democracy agenda, said Bruna Santos, director of the Brazil Institute at the Wilson Center in Washington. But the Brazilian leader is aware of the risks of leaning too close and will measure his words in Washington, she added.
Ukraine could make for a somewhat awkward divergence between the two leaders. Lula previously said the country was as much to blame for the war as Russia, though he more recently clarified that he thought Russia was wrong to invade.
Lula has declined to provide Ukraine with munitions, and he told CNN that he will propose to Biden the creation of a group of nations to negotiate peace.
Asked about Lula's proposal on Ukraine, White House National Security Council spokesman John Kirby said it's up to Ukraine President Volodymyr Zelenskyy to determine "if and when negotiations are appropriate, and certainly under what circumstances."
Biller reported from Rio de Janeiro