Alternative Thanksgiving meals: From vegan to cultural differences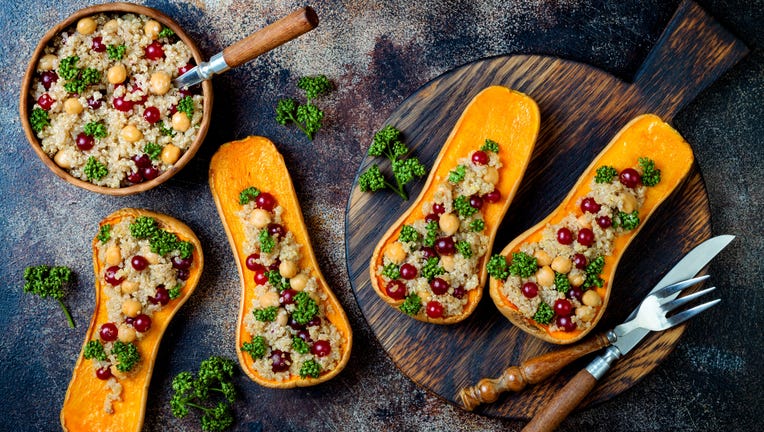 article
A Thanksgiving dinner is perhaps the most traditional meal in American culture. 
But as vegetarian and vegan diets become more of the norm, as well as celebrating holidays with multicultural families, your menu may be calling out for something different this year. 
Skipping the turkey
If you're just looking to downsize or simplify a whole turkey, a turkey breast would be the most sensical swap. 
Individual Cornish game hens can be an impressive substitute while also feeling familiar, as you'd still be roasting a whole bird (albeit much smaller). The chickens can also please non-turkey lovers.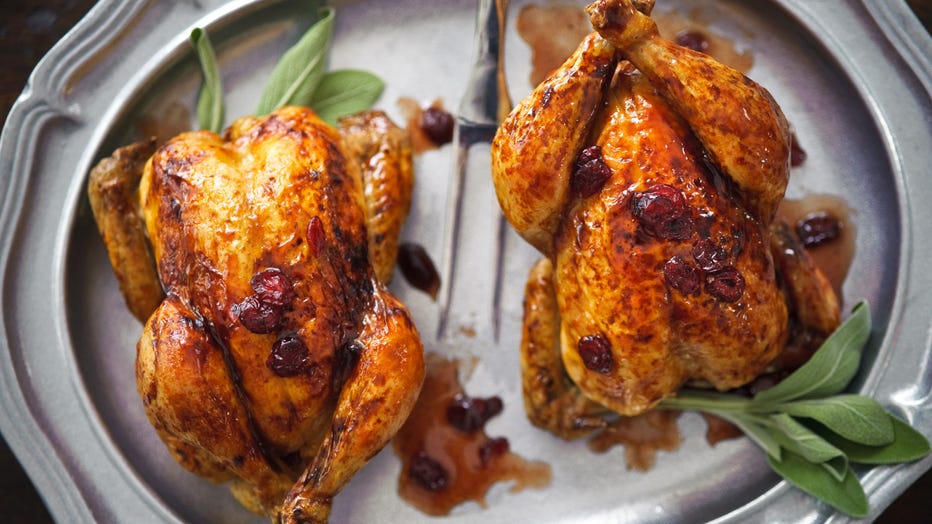 Pair of Cornish game hens roasted in cranberry sauce served with fresh sage. Getty Images
For a vegetarian entrée, you could take a cue from popular meal service delivery company Blue Apron and think fancy pasta. Their vegetarian Thanksgiving box this year makes a three-cheese cavatappi pasta bake with mushrooms, spinach and truffle breadcrumbs.
Variations of vegan turkeys do exist, though you may have to do some sleuthing online to find one near you or get it shipped on time, especially since one of the more accessible versions won't be available. Trader Joe's confirmed to FOX Television Stations that their vegan turkey-less roast is not returning this year.
You could find recipes to make your own, too, typically out of seitan (a plant-based meat substitute).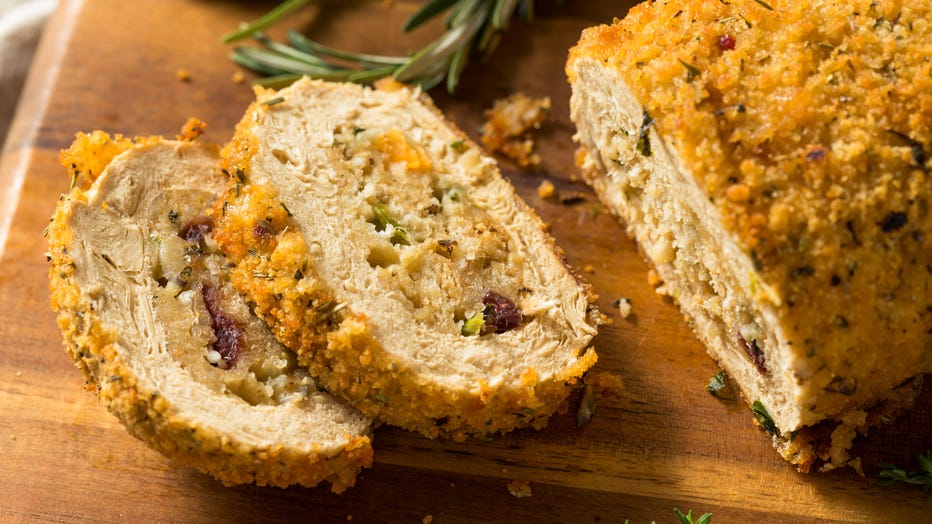 Homemade holiday vegan Thanksgiving roast. Getty Images
RELATED: Here are the trendiest travel destinations for Thanksgiving
Making up for it in sides
Little changes could make a big impact on your table via way of side dishes. 
Scalloped or fingerling potatoes could woo a crowd instead of mashed potatoes. Or instead of green bean casserole you could try other green veggie dishes starring spinach, kale or swiss chard. 
Incorporating more side dishes is also a sure way to fill up the stomachs of those who don't eat meat.
One route is to make smaller portions of the sides that will meet others' dietary restrictions. 
As AP food writer Katie Workman says, she makes the base of her stuffing vegetarian, with vegetable broth. Then she separates part of it out into a smaller baking pan for the vegetarians, and drizzles some of the turkey pan juices over the larger pan of stuffing. If you want to make the smaller pan of stuffing vegan, use vegan butter to saute the vegetables. 
To really make your side dishes sing, make in-season produce the star. 
Some wild mushrooms are in season this time of year, and can lend a meatier flavor and texture to dishes. A quick internet search could tell you which ones are in peak in your area.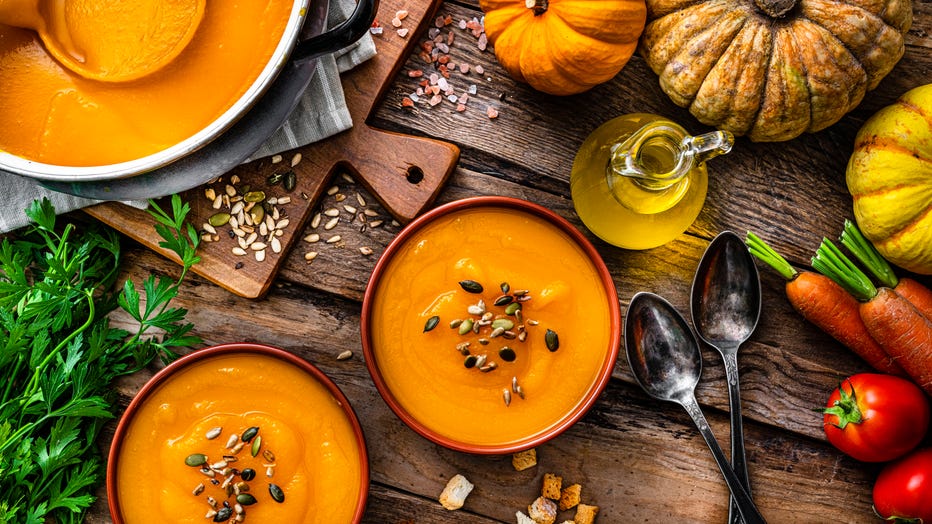 Two bowls of pumpkin soup for Thanksgiving meal with ingredients. Getty Images
And there's a reason pumpkins and squash are so commonly associated with Thanksgiving; they're in season, too. 
And the sweeter produce doesn't have to be limited to desserts. Cranberries, apples and pomegranates are in season, and could add a wow factor to stuffings or salads. A fruit salad with seasonal citrus fruits (think oranges and grapefruits) could make an unexpected addition as well. 
RELATED: Thanksgiving cranberry conundrum: Americans still divided over canned vs. homemade, jellied vs. whole berries
Cultural differences
Thanksgiving is an American holiday (though, of course, Canadians have a version, too). And though it is typically considered to be a secular observance, some families with non-American cultural backgrounds or non-Christian faiths may not observe the day the same – or at all. 
For multi-faith or multicultural families celebrating together, there are ways to honor and invite the differences to come together at the table.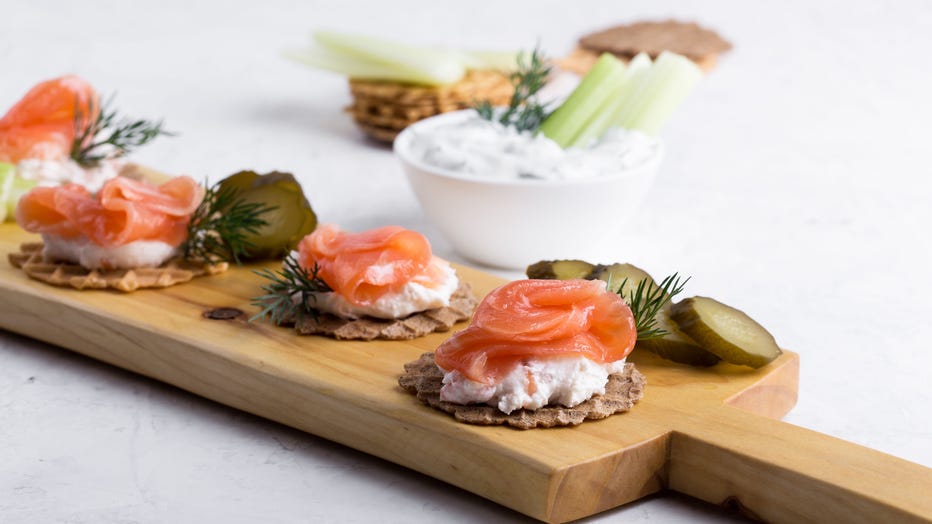 Party food, appetizer with salmon pate and smoked salmon, dip with dill, celery sticks and pickles on wooden board.
Both halal and kosher turkeys are available, for example, for those inviting Jewish or Muslim guests. And appetizers and side dishes inspired by Jewish, Middle Eastern or Desi cooking could be incorporated as well, such as a smoked salmon board instead of a charcuterie board, or a rice dish reminiscent of biryani. 
RELATED: Where weather could cause problems for Thanksgiving travel this year
This story was reported from Detroit.