2 men charged in 64-pound meth bust at Minneapolis luxury apartment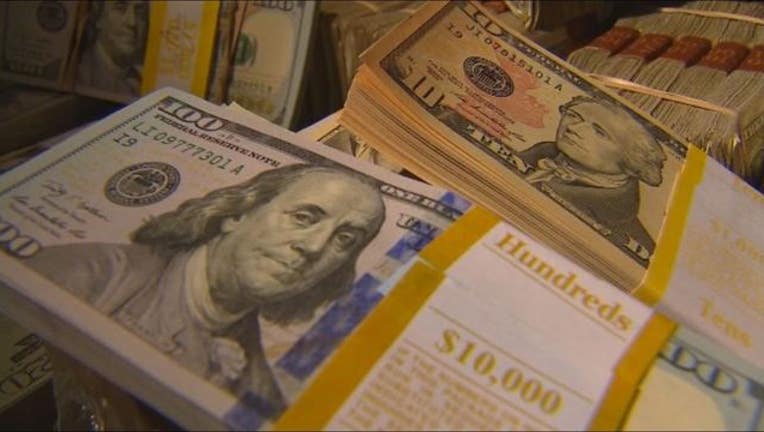 MINNEAPOLIS (FOX 9) - Two 22-year-old men are facing federal charges after investigators found 64 pounds of methamphetamine, three pounds of heroin, unidentified pills, two loaded handguns and a large amount of cash while executing a search warrant at a luxury apartment near downtown Minneapolis. 
On Monday, U.S. District Attorney Erica H. MacDonald announced charges against Gonzalo Jiminez-Paz Jr. and Rey David Luna-Santillanes, both of Minneapolis. The men are charged with one count each of conspiracy to distribute methamphetamine. 
According to the charges, on March 23, investigators with the Ramsey County Sheriff's Office Violent Crime Enforcement Team executed a searched warrant at an apartment at 111 South Marquette Avenue. 
In the apartment, investigators found approximately 64 pounds of methamphetamine in two suitcases. They also recovered three pounds of heroin hidden in a shoebox, a bag containing unidentified blue pills, two loaded handguns and a large amount of cash in a kitchen cupboard. 
They arrested both Jiminez-Paz Jr. and Luna Santillanes, who were in the apartment at the time. 
In a statement to police, Luna-Santillanes said he moved to Minneapolis two months ago and had been living in the apartment with Jiminez-Paz Jr. He said he knew Jiminez-Paz Jr. had been dealing drugs. 
Luna-Santillanes admitted to delivering drugs for Jiminez-Paz Jr. and said he had also wired money to California on his behalf. He claimed he was helping Jiminez-Paz Jr. as a friend and did not receive money from the drug dealings.