Winter storm warning issued for much of Twin Cities, 4-7 inches expected
(FOX 9) - Snow is beginning to taper off in the Twin Cities metro, but the evening commute on Tuesday is expected to be slow going as roads remain slippery and covered in snow. 
A winter storm system, which prompted a winter storm warning and winter weather advisory, dumped several inches of snow in the Twin Cities metro and areas of southern Minnesota and western Wisconsin. The storm prompted schools to close early and the Minneapolis-St. Paul International Airport shut down its runways due to heavy snow. Cities, including Minneapolis and St. Paul, also declared snow emergencies. 
Timeline of the snow on Tuesday
A timeline of the snow in Minnesota on Tuesday. (FOX 9)
Light snow started falling in the Twin Cities before 6 a.m. on Tuesday and will continue through the morning. The snow has slowed down roads and caused some spin-outs before 7 a.m.
Starting at about 9 a.m., snow will be heavy at times, with about 4-6 inches possible by about 5 p.m. This snowfall will reduce visibility and make roads slippery. 
Snow will taper off to flurries from 5-9 p.m. Tuesday, with gusty breezes and falling temperatures expected. 
How much snow will we get?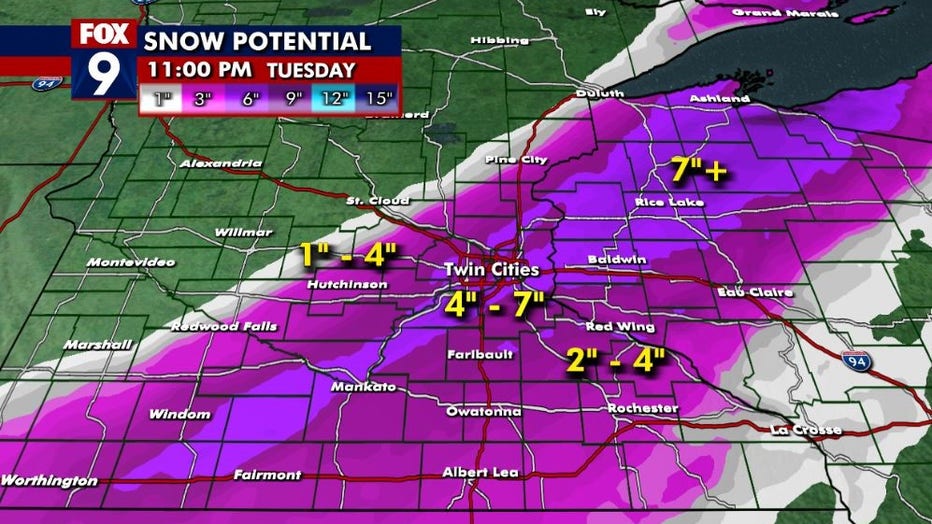 Snow totals for Tuesday's storm.  (FOX 9)
Several inches of snow are likely in the Twin Cities metro with tough travel likely through Tuesday night. That snow accumulation will drop off quickly as you head northwest, with the St Cloud area likely only getting an inch or so – and much of western and northern Minnesota likely to get nothing. 
The Twin Cities metro is in the heart of a sharp snow gradient with locations in the winter weather advisory likely seeing 2-4 inches, while those in the winter storm warning could see in the 4-7 inch range. 
This is not a big storm by any measure but enough to be a possible evening commute buster.
For the latest on your weather forecast, stay with FOX 9 and download the FOX 9 weather app.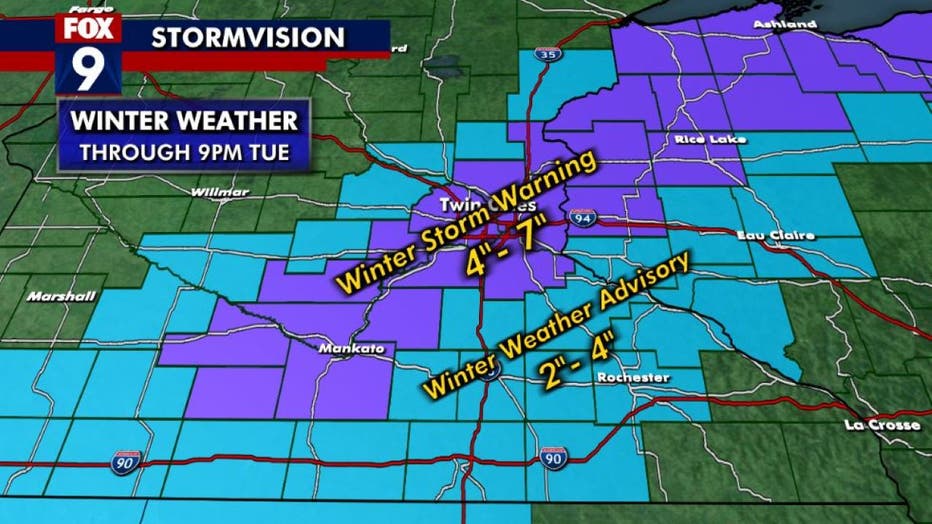 A winter storm warning is in effect until 9 p.m. on Tuesday. 
MnDOT working the keep the roads safe
The Minnesota Department of Transportation tells FOX 9 they started treating roads around midnight, saying it's best to treat roads as close to the start of the snow fall as possible. 
Currently they have about 200 crews out working to keep the roads clear. Crews will work 12 hour shifts until the roads are in good shape. The fast snow fall will mean crews will have to work quickly to keep up. 
Crews in Rochester and Duluth are on standby waiting for possible snow. 
As of 9 a.m. on Tuesday, many roads across the Twin Cities metro were completely or partially covered in snow, with numerous crashes and spinouts reported, according to MnDOT's website.