WEATHER TIMELINE: Snow returns to Twin Cities Tuesday-Wednesday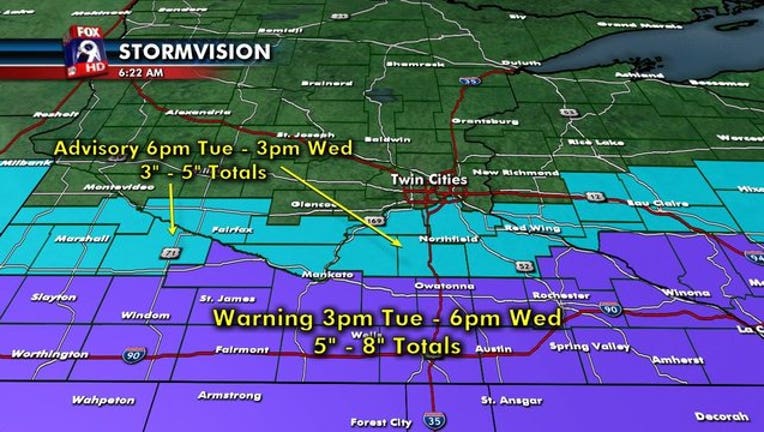 article
MINNEAPOLIS (KMSP) - A Winter Weather Advisory is in effect for parts of the Twin Cities south metro from 6 p.m. Tuesday, Jan. 24 through noon Wednesday, Jan. 25. A Winter Storm Warning is in effect along the Interstate 90 corridor in southern Minnesota from 3 p.m. Tuesday to 6 p.m., Wednesday.
The big story with this storm is that it is trending slower and further to the south, which means fewer impacts likely for much of the Twin Cities metro. This is due in part to the area of low pressure developing further to the southeast and stronger than anticipated.  Because of the slower nature, snow likely won't arrive in the Twin Cities until after the Tuesday evening commute, but should be flying for the Wednesday morning commute -- however, pretty light in nature overall.
Hefty snows are likely across the I-90 corridor from late Tuesday afternoon through Wednesday morning, which could give isolated spots 10 inches.
TUESDAY EVENING: The storm system is slowing, so the Tuesday evening commute will likely not be impacted.
WEDNESDAY MORNING: Weather will have a high impact on the Wednesday morning commute, likely with light snow falling through the morning.  The snowfall is not likely to be heavy, but Twin cities drivers know it only takes a little to cause significant problems
WEDNESDAY EVENING: While there will be some good winds behind this storm, the fairly mild temperatures and only light accumulations should allow the MnDOT's salt and sand treatments to work quite well, which should help melt snows on the roads pretty quickly after it winds down in the early afternoon.