Twin Cities: 3-5 inches of snow possible, over 20 inches for February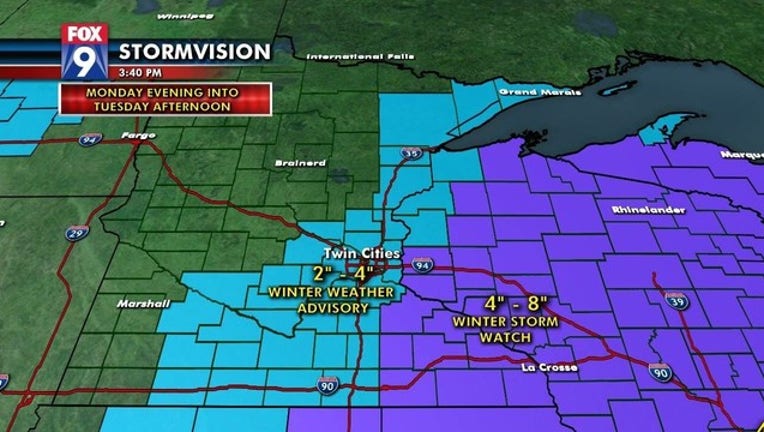 (FOX 9) - Another round of snow has already dropped over 3 inches of snow on the Twin Cities metro Monday night into Tuesday morning.
The Winter Storm Watch was dropped for the Twin Cities metro, replaced by a Winter Weather Advisory in advance the snow late Monday night into Tuesday afternoon.
The snow started late Monday night and will roll through the Tuesday morning commute, with MSP Airport totaling 3.7 inches, Chanhassen 3.8 inches, St. Cloud 3.1 inches, and Eau Claire 4.2 inches as of 6 a.m. This second round of snow follows Sunday's snowstorm, which dropped about 3 to 5 inches on the metro. 
A Winter Storm Watch remains in effect east of the metro and into western Wisconsin. This area will see heavy snow, with 4 to 8 inches possible. 
With Monday and Tuesday's snow February 2019 has cracked the top five snowiest Februarys in Minnesota history (it's only the 12th!). 
Stay up to date during this week's winter weather by downloading the FOX 9 Weather App. It has the latest temperatures, snow totals, forecasts and school closings 24/7. Download it for Android or Apple.