Snow timeline: Twin Cities could get 2-5" inches by Thursday night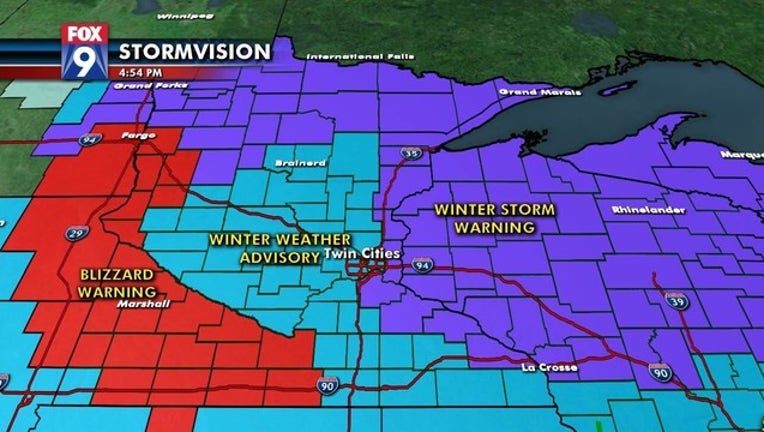 (FOX 9) - A second round of snow Thursday could drop another 5 inches on the Twin Cities metro, adding to the already over 4 inches on the ground as of Wednesday morning. 
Some schools have already announnced closings or cancellations. 
The Twin Cities metro is now estimated to get around 2-5 inches of snow between Wednesday and Thursday evenings.
A Winter Weather Advisory will be in effect from 6 p.m. Wednesday through late night Thursday. In places east of the metro, a Winter Storm Warning is in effect and in Southwest Minnesota, a blizzard warning has been issued. 
TIMELINE
Thursday: Snow and blowing snow with gusty winds as temperatures fall to the lower teens (wind chills below zero). Snow tapers off in the late afternoon with an additional 2 to 4 inches falling throughout the day.  
Thursday Night into Friday: COLD--wind chills to minus 30 in the metro with high struggling to get back to zero Friday afternoon. 
Stay up to date during this week's winter weather by downloading the FOX 9 Weather App. It has the latest temperatures, snow totals, forecasts and school closings 24/7. Download it for Android or Apple.