Minnesota weather: Timeline of what to expect with Thursday's sloppy snow
MINNEAPOLIS (FOX 9) - A few inches of heavy, wet, sloppy snow are possible Thursday for portions of Minnesota, including the Twin Cities metro. 
A winter weather advisory is in effect midday Thursday through Friday morning for much of southern and central Minnesota, including the Twin Cities metro. A winter storm warning is in effect for northeastern Minnesota and northwestern Wisconsin.
What to expect with the snow
Rain showers will start to develop Thursday morning. The precipitation will mix in with some sleet and snow, and eventually become accumulating snow by early to mid-afternoon, with some slushy accumulations possible by the evening commute. 
That's when temperatures will dip back below freezing. This will lead to some tricky travel late Thursday and Thursday night. Gusty winds are also possible, which could lead to blowing snow in southwestern Minnesota. 
Snow will wrap up overnight, though the Friday morning commute could still be messy as crews clean up. 
In total, most people will get around 1-4 inches of slushy snow, plus or minus, in the winter weather advisory area. In the winter storm warning area, 4-7-plus inches of snow is possible. 
Temperatures will drop Friday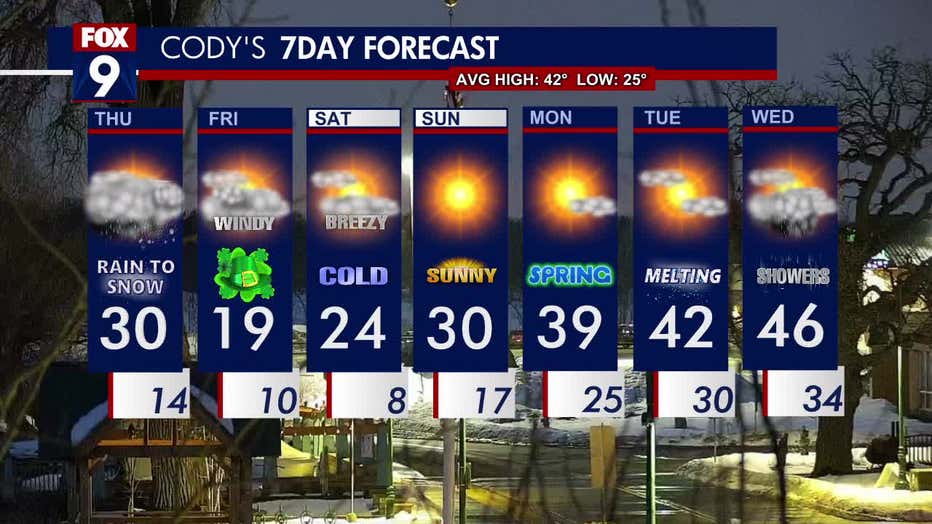 Friday will feel more like January than St. Patrick's Day, with a high of 19 degrees and strong north wind in the Twin Cities. 
Temperatures will stay below average for the weekend, before warming up slowly to more seasonable temperatures for the start of the work week.