Minnesota weather: Showers, thunderstorms for Saturday night
MINNEAPOLIS (FOX 9) - It's going to be a wet weekend. 
Saturday marks the first official day of fall with temperatures reaching 71 degrees in the Twin Cities metro. The weekend will be wet for most of the state, and a chance of severe weather for some. 
Portions of southwestern Minnesota are under a Level 2 slight risk for severe weather, while the Twin Cities metro is under a Level 1 marginal risk. There will be scattered showers on and off throughout the day on Saturday with storms possible in the Twin Cities metro in the late afternoon and evening. 
Between Saturday and Sunday, portions of Minnesota could see a potential 2–4 inches of rain, but most of Minnesota will see closer to .5 inches. 
The rain is sticking around for most of the day on Sunday with a high of 69 degrees. Showers will linger into the start of the week on Monday and Tuesday, with our next chance of sunshine on Wednesday. 
Here's a look at your seven-day forecast: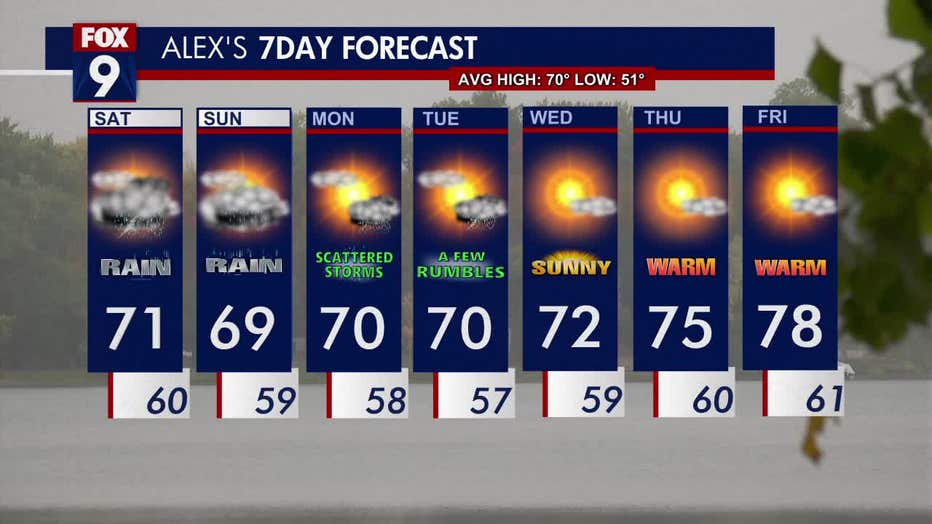 Twin Cities metro seven-day forecast.  (FOX 9)