Minnesota weather: Seasonable and cloudy
MINNEAPOLIS (FOX 9) - Election day should be pretty cloudy overall. But that isn't unusual for the month of November, considering it's on average one of our cloudiest months.
We'll see the least the opportunity for some very light showers as we get through the latter part of the morning as some deeper moisture pushes off to the north and east, well ahead of our next little clipper system. However, the bulk of the moisture will stay in parts of northern and eastern Minnesota, especially as we get later this evening and overnight. 
The rain in the metro won't last long and certainly won't be heavy by any stretch that lifts north and eastward.
Once we get past the dinner hour, some light showers up and down the I-35 corridor. The bulk, though, of the heavier moisture will stay in northeastern Minnesota where there could be some snow flying north of Duluth, but that's where that will stay. 
Some more rain is expected to roll in on Wednesday. Tuesday's high is 47 degrees in the Twin Cities metro before warming back up into the mid-50s on Wednesday. 
Here's a look at your seven-day forecast: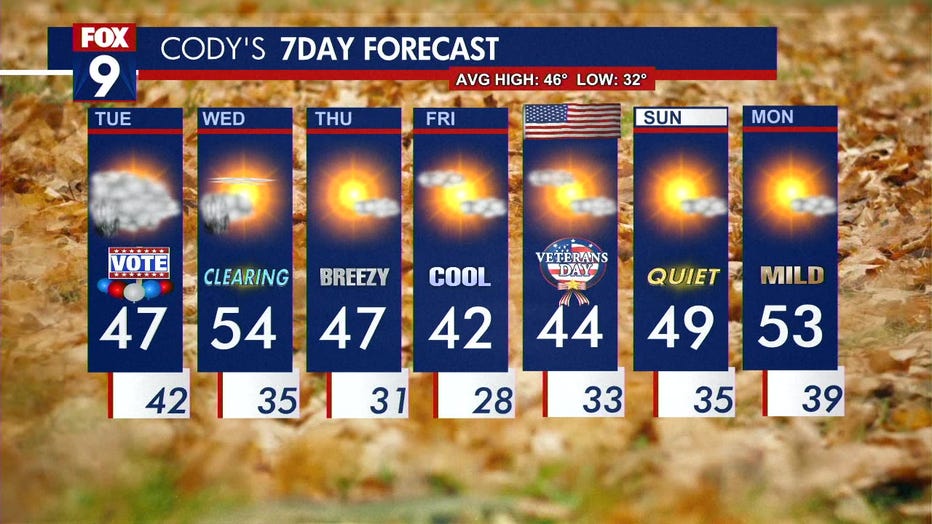 Tuesday will be largely seasonable.  (FOX 9)