Minnesota weather: Cooler with lingering showers, frost possible for some overnight
MINNEAPOLIS (FOX 9) - A fall-like day on Tuesday for the Twin Cities metro. 
The morning starts foggy but should clear out by the early afternoon. However, the clouds will linger around most of the day, with some sun possibly peeking through. Tuesday's high is 66 degrees.
The Twin Cities metro and northern Minnesota saw rain overnight, it will clear out for most by the morning or early afternoon. But, the east metro could see a few light drips in the mid to late afternoon as the system moves out into western Wisconsin. 
Temperatures will drop overnight with the coolest night we've seen in a while. Temperatures in the Twin Cities metro area dip into the mid-40s while northeastern Minnesota and northwestern Wisconsin are under a frost advisory overnight into Wednesday morning as temperatures drop into the 30s. 
Temperatures stay cool for the next two days before we see another chance for highs in the 80s on Thursday. 
Here's a look at your seven-day forecast: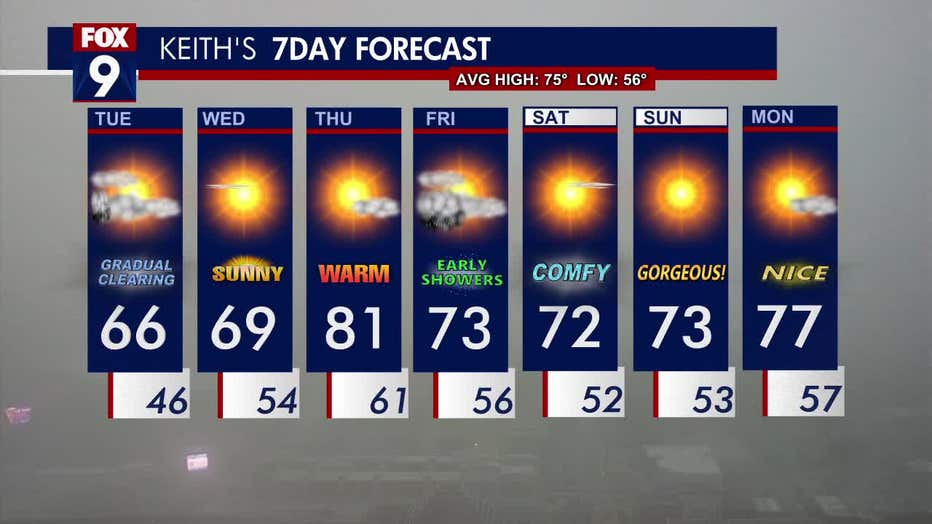 Twin Cities metro seven-day forecast.  (FOX 9)