Minnesota wakes up to wind chills of -15 to -35
Minnesota woke up to wind chills in the -8 to -40 range Monday morning, with a wind chill warming in effect until 10 a.m. An arctic air mass and strong northwest winds make going back to work and school on Monday not only uncomfortable, but downright dangerous. Temperatures will warm up to 2 degrees on the positive side, with a wind chill of -11 in the afternoon.
Chills of -15 to -30 will be common and can caused frostbite on exposed skin in as little as 10 minutes. Remember to bundle up and prepare for the worst. "Cover your cracks and crevices" and take a look at the forecasted wind chill values come Monday morning.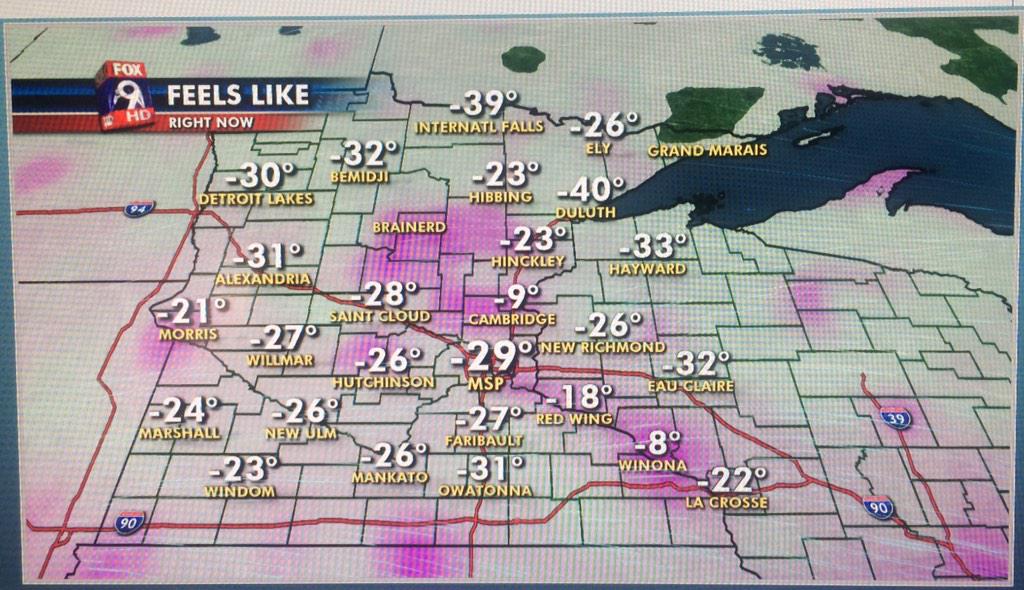 Here is an interesting link that will further explain wind chill and it even has a wind chill calculator to help you determine the "feels like" temperature in your neck of the woods: http://www.nws.noaa.gov/om/winter/windchill.shtml 

Snow coming?
If that is not enough, some of us will be clipped by a clipper late Monday into early Tuesday. 3-6 inches of snow is not out of the question in areas of southern Minnesota. As of now, the snow should mainly fall just south of the immediate metro. However, a small shift in the track of the storm can bring accumulations farther north. Below is a look at the current track of our next clipper system and an early look at some possible snow totals.


Weather resources
Tune in to FOX 9 News for your latest forecast information, and keep a close eye on your local area using our online weather alerts and mobile app.
See a list of active watches and warnings in your area at www.myfoxtwincities.com/global/weatheralerts.asp
FOX 9 WEATHER APP
iPhone: http://bit.ly/lcP0qS
Android: http://goo.gl/pmLdX