Another tropical system is eyeing Hawaii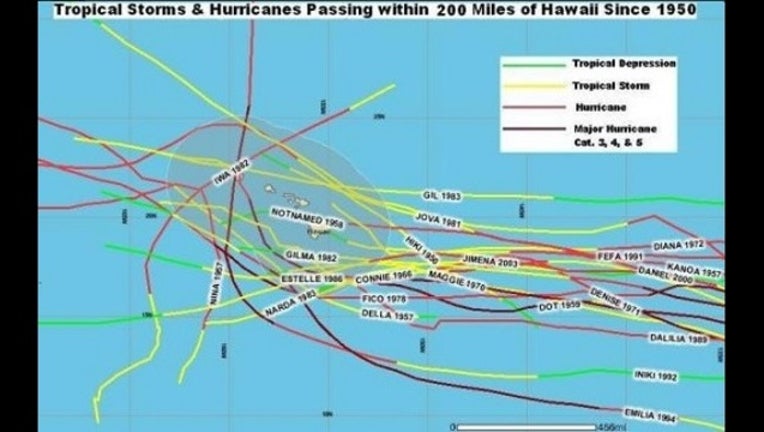 article
While the Atlantic continues to be fairly quiet (granted we are just now heading into peak season), the Pacific has been pretty active so far.  Now a new storm is eyeing Hawaii.  This may seem like an ordinary thing considering the state has been impacted by a couple tropical systems the last 2 years, it really is a little unusual.  While the string of islands do get impacted by tropical systems on occasion, they aren't usually in the mix this many times in such a short period. 
Take a peek for yourself. The image above is a graphical representation of the tropical systems that have come within 200 miles of the islands from 1950 to 2000…
It may look like a lot, but about 2 dozen storms came within 200 miles of the island chain in those 50 years.  That's about 1 close call every other year or so.  For an island chain that sits in pretty warm water in the middle of the largest ocean on the planet, that's a pretty big feat.  With impacts to the island chain expected already by early Tuesday, looks like Guillermo can be added to the list of tropical systems that directly affect the state.  The last to do so was just last year with a direct hit on the big island from tropical storm Iselle.  Hawaii had two other close calls after Iselle in 2014 with Julio passing to the north just days after the direct hit and then Ana coming within 100 miles of Kauai in October causing some heavy rains and downed trees on that island.  Current forecast track puts Guillermo within striking distance of the big island Wednesday morning with an escape west of Kauai hopefully by Saturday.