Winter treats that will warm you up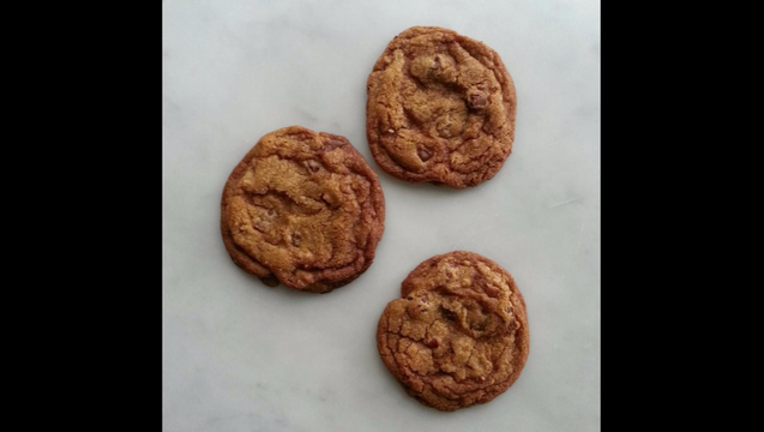 article
Bacon Grease Chocolate Chip Pecan Cookies
With all the buzz lately about bacon and chocolate, Fox 9 lifestyle expert Ross Sveback decided to experiment with adding bacon grease to the classic chocolate chip cookie recipe. The bacon grease lent an earthy, homey and maple-y goodness to the cookie. It doesn't overwhelm, it just lightly teases the palate with its delicious goodness. 
1/2 cup rendered bacon grease
1/2 cup butter-flavor shortening (butter if you like)
1 1/2 cups packed brown sugar
2 eggs
2 tsp. vanilla bean paste or vanilla extract
1 tsp. maple flavoring.
1 tsp. baking powder
1 tsp. baking soda
1/2 tsp. salt
2 cups flour
1 cup chocolate chips, I use guittard dark chocolate
1/2 cup chopped pecans
fine sea salt for sprinkling on top – if desired

Preheat oven to 350 degrees.  In the bowl of an electric mixer cream bacon grease, butter and brown sugar together scraping bowl if necessary to combine.  Add egg, vanilla bean paste or extract, baking powder, baking soda and salt – mix on medium low to combine.  Add flour and stir to incorporate – scraping bottom of bowl to ensure all the flour is mixed together.  Add chocolate chips and nuts, then stir again.  Place dough into refrigerator for at least six hours, preferably overnight to chill.

Using a cookie scoop, place dough onto silpat lined baking sheets (roughly 2 tbsp.).  This recipe should yield two dozen cookies.  Bake for 16-20 minutes, turning pans or rotating them bottom to top if necessary depending on your oven halfway through the baking time.  Remove from oven and allow to cool on a rack until you are ready to eat them.  Enjoy!

7-Layer Bar Cake
1 package graham crackers from box (any flavor)
1 c. chocolate chips
1 c. white chocolate chips
1 c. butterscotch chips
1 c. coconut flakes (I use unsweetened)
1 c. chopped pecans
1 boxed chocolate cake mix
8 oz. package cream cheese
1/2 c. (1 stick) unsalted butter
1 lb. powdered sugar

Preheat oven to 325 degrees. Prep a 9X13 pan by spraying it with release spray, lay a piece of parchment into the pan with sides hanging over so you can remove the cake after it has cooled. Prep the parchment with release spray as well.

Break up package of graham crackers and sprinkle over bottom of pan, followed by the chocolate chips, white chocolate chips, butterscotch chips and pecans.

Prepare cake mix according to package directions and pour over other ingredients. Use a spatula to smooth if necessary so it is evenly spread over the top.

In a small saucepan, heat up butter and cream cheese, whisking or stirring to combine. Place into a bowl along with powdered sugar and stir to combine. Pour over top of cake mix, and then use a fork or knife to swirl the mixture into the cake, creating a marble effect. The more you mix it in the more cake-like your end result will be, the less you mix it in, the more gooey your cake will be.

Bake in oven for 60-70 minutes, until tester comes out clean when inserted into the cake portion toward the middle. Allow to fully cool before removing from pan. Cut into desired sizes, and enjoy!