Dark chocolate orange pancakes, chocolate parfait, dark chocolate and cherry brownies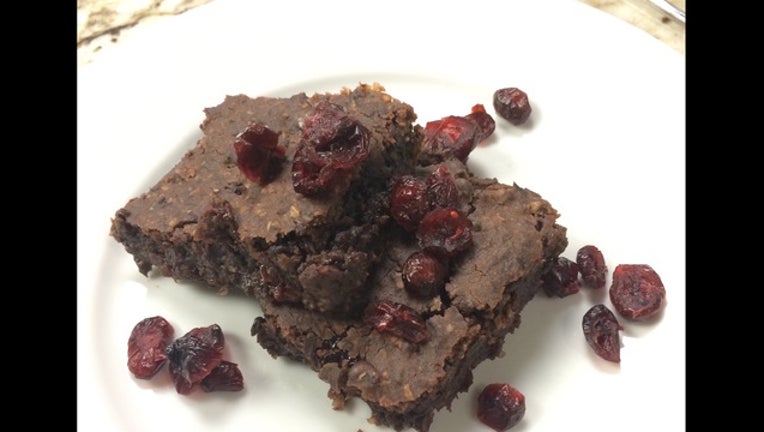 article
Dark Chocolate-Orange Pancakes
4 servings
Ingredients
1 1/2 cups whole-wheat flour
1/2 cup quick cooking oats
2 teaspoons baking powder
1/4 teaspoon kosher salt
1 orange, zested and juiced
2 eggs, beaten
1 1/4 cups milk
2 tablespoons fresh orange juice
1/2 cup dark chocolate chips
2 tablespoons unsalted butter
Directions
Preheat a griddle, cast iron pan or large non-stick skillet to medium heat.
Whisk flour, oats, baking powder, salt and orange zest in a large bowl.
In smaller bowl, combine the eggs, milk and orange juice.
Add the wet ingredients into the dry ingredients; stir until incorporated. Do not over-mix batter.
Brush butter on griddle or skillet; ladle in 1/4 cup batter for each pancake.
Top with chocolate chips and cook until bubbles form on the top. Flip and cook until brown.
Chocolate Strawberry Parfait with Spicy Pecans
Serves 4
Ingredients
8 tablespoons spicy cayenne pecans, chopped
4 cups plain Greek yogurt
1 tablespoon honey
2 cups frozen strawberries (not in syrup), thawed and chopped medium
1/2 cup dark chocolate, melted–Use chocolate with 70% cocoa or greater
Directions
Thoroughly combine yogurt and honey.
Layer 1/2 cup yogurt, 1/4 cup berries, 1 tablespoon melted chocolate, and 1 tablespoon nuts in clear individual serving cups or bowls.
Repeat with second layer. Layer should end with melted chocolate and chopped nuts on top.
Black Bean Brownies with Dried Cherries
1/4 cup dried cherries
1 cup boiling water
1 – 15 ounce can black beans, drained and rinsed
2 tablespoons dark chocolate cocoa powder
1/2 cup quick oats
1/4 teaspoon salt
2 tablespoons sugar
1/3 cup pure maple syrup
1/4 cup coconut oil, melted
2 teaspoons vanilla extract
1/2 teaspoon baking powder
1/2 cup dark chocolate chips