Wolves trying to 'win every game' with 9 left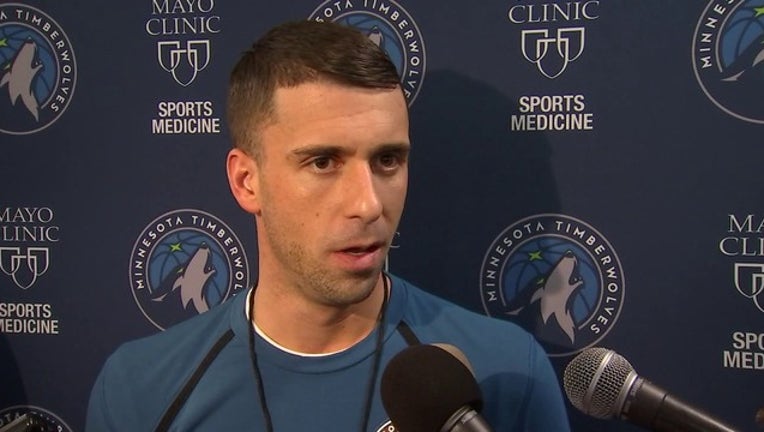 MINNEAPOLIS (FOX 9) - The Minnesota Timberwolves are forced to accept the reality that with nine regular season games left to play, they'll miss the Western Conference Playoffs for the 14th time in 15 years.
The Timberwolves are 33-40 and are 9.5 games out of the No. 8 spot in the Western Conference. It's not mathematically possible for them to be in the playoffs. That said, there's no talk of not competing or playing hard in the season's final weeks.
"You ask guys to continue to be professional about everything. In terms of approach, in terms of if you're able to contribute, we want everybody contributing one way or another," Timberwolves interim coach Ryan Saunders said.
That's despite missing several players due to injuries. It's unlikely Robert Covington, Derrick Rose and Jeff Teague will play the rest of the season. Loul Deng will not play Tuesday against the L.A. Clippers due to a sore left Achilles, and Taj Gibson is questionable with a left calf strain.
That doesn't leave many bodies to practice with, which means a lot of playing time for those who can give it a go.
For the players who are healthy, it doesn't change their approach. They're trying to get better every day and find a way to win games, attempting to salvage something positive from a tumultuous season. They're not going to be a playoff team, but it doesn't mean they can't challenge those teams who are fighting for playoff seeding.
"Definitely would've made it fun, would've made it much more interesting with the opponents we have coming in on our schedule. At the same time, we're still approaching it trying to win every game," guard Tyus Jones said.
Jones has scored in double figures in three straight games, and has recorded at least seven assists in three of the last five Wolves games. He's also played at least 26 minutes in six straight games.
The Timberwolves snapped a five-game losing streak with a 112-99 win over the Memphis Grizzlies on Saturday. It was the first time since Jan. 30 that Minnesota has allowed less than 100 points. The two opponents? The Grizzlies and New York Knicks.
One welcome sight at Timberwolves practice on Monday were the "We" shirts made famous by former coach Flip Saunders. Players wore them at his Target Center memorial service, and his "We over Me" approach is something Ryan Saunders embraces. Maybe more importantly, so do the players.
"This was something my dad believed in, something I believe in and a lot of these guys still talk about that mentality, 'We over Me.' I thought it was fitting to bring it back," Ryan Saunders said.
After Tuesday's game against the Clippers, the Timberwolves have three games in a four-day stretch to end a four-game home stand. They host the Warriors Friday, the 76ers Saturday and the Trail Blazers next Monday.
Minnesota has seven of its final nine games of the regular season at Target Center, where they are 23-11 this season.
Post-practice notes:
Tyus Jones was all smiles when asked about Duke's 77-76 win over UCF in the NCAA second round on Sunday. UCF had two looks at the basket in the final seconds, but both barely slid off. His brother, starting guard Tre Jones, finished with 13 points, three rebounds and four assists in 40 minutes.
"A lot of emotions, heart rate going up. It was a crazy game, crazy finish. Came out with the W, that's all that matters," Tyus said.
Duke forward Zion Williamson is the projected No. 1 pick in the next NBA Draft and helped lift the Blue Devils over UCF with 32 points and 11 rebounds. Andrew Wiggins was the No. 1 pick in 2014 by the Cleveland Cavaliers before being moved to the Timberwolves in the trade for Kevin Love. Wiggins was asked Monday what advice he has for Williamson.
"Just stay true to yourself, that's it. You've got a lot of people coming at you from a lot of different angles. Stay true to yourself, family and God. Hopefully everything will go the way he wants it to go," Wiggins said.