With bye week over, Wild enter hectic stretch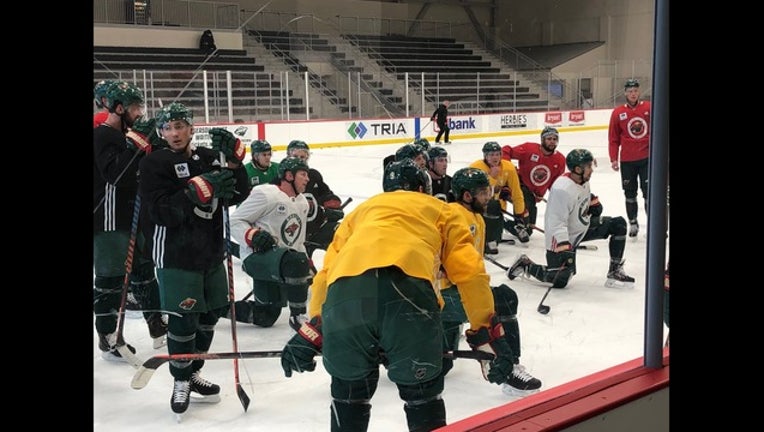 ST. PAUL (FOX 9) - While most of us were suffering through the polar vortex this week, Minnesota Wild players largely escaped the bitter cold and traded in their skates for swim trunks.
Florida, or anywhere south for that matter, was a popular destination as the Wild embarked on both the NHL All-Star break and its bye week. After more than a week away from hockey, they put the blades back on Thursday and had a spirited workout at Tria Rink.
The Wild head to Dallas to face the Stars Friday night. They're fresh off a 1-0 win over the Buffalo Sabres Wednesday night. The goal? Start fast and play like they were heading into the break. They had won three straight games and jumped to sixth in the Western Conference.
"Just not to think they're still in Florida would be a good start. They have to be mindful of what we've been mindful of the last month and a half. Just look at the standings, Dallas is one point back of us now," Wild coach Bruce Boudreau said. "Thank goodness other teams had their breaks, and in eight days, no one has really jumped out at us. But now it's up to us. Nothing's changed as far as our mindset of what we're looking at and what we're up against. We know if we want to be successful what we have to do, now it's up to us to go do it."
He's right. The Stars are right behind the Wild with 54 points. Minnesota sits at 55 points, and is seven behind the Vegas Golden Knights for the NO. 5 spot.
Boudreau was less than thrilled that the Stars not only played Wednesday night, but have had three practices since the Wild last touched an ice sheet. He said he can't control the schedule, just how his players react to it.
That schedule will be a grind over the next three-plus weeks. The Wild have 14 games over the next 26 days, starting with a back-to-back at Dallas Friday and hosting the Blackhawks Saturday.
Jason Zucker spent the bye week in Cabo San Lucas with his family, relaxing and not thinking about hockey. He was all smiles when talking about the upcoming stretch.
"Personally I love it. It's great, I think it gets you into a groove of playing and practicing, not a whole lot of time off," Zucker said. "You know it's just a grind again."
With that grind also comes opportunities. Four of the Wild's next six opponents are currently non-playoff teams.
The Wild have 32 games left in the regular season, and they're already taking the mental approach that the playoffs are around the corner.
They come out of the break with consecutive Central Division opponents in Dallas and Chicago. The Wild are looking to set the tone for the final stretch with a fast start Friday night.
Marcus Foligno spent the break down south in warmer weather with his family. He anticipates a playoff-like atmosphere Friday night in Dallas, and says the Wild need to have energy from the opening faceoff.
"They're in the Wild Card position and I'm sure they want to jump up a little higher than us. I think it's good for us to kind of jump right back into it," Foligno said. "Jump right into it and get thrown into the fire I think is good for this team."
Two big buzz words for Boudreau after Thursday's practice were consistency and commitment for the final 32 games. The Wild haven't won or lost more than five straight games the entire season. They went on a five-game win streak in October and won six of seven before going on a five-game losing streak.
They also had a four-game losing streak, and had lost five of six before the front office started moving players around. Nino Niederreiter and Justin Kloos were both traded. The Wild acquired Pontus Aberg and Victor Rask in exchange.
The Wild won three straight games before getting their week off. In the win at Colorado before the break, Nick Seeler blocked three straight shots in one shift, and Foligno blocked a fourth. It was the commitment Boudreau was stressing.
The end of February gets particularly challenging for the Wild with six games in a 10-day stretch. They host St. Louis and Anaheim before hitting the road against the Rangers and Red Wings. It ends hosting St. Louis and traveling to Winnipeg.
"It's non-stop. I mean I think we have 14 games in 25 days, something like that. So it's a lot of games in a short amount of time," Zucker said.
If they can get that consistency and commitment Boudreau is looking for, they shouldn't be scratching and clawing for a playoff spot.