Will Jose Berrios be an ace?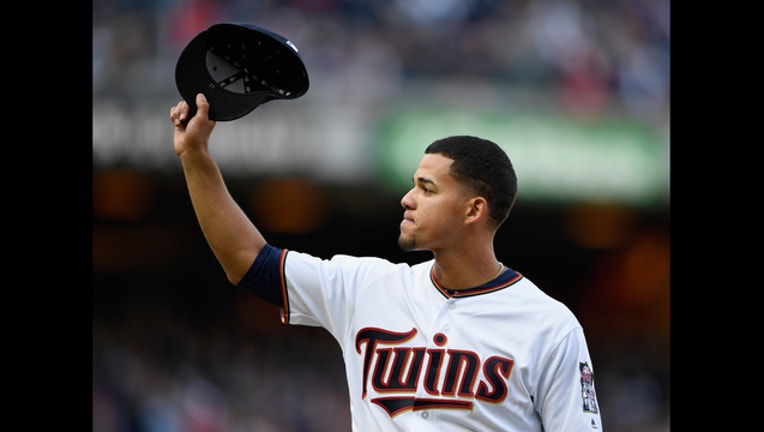 MINNEAPOLIS (FOX 9) - Jose Berrios has pitched in big games before. In fact, he tossed three innings in the 2017 Wild Card loss to the Yankees after Ervin Santana had a disastrous start.
Last Thursday was different. There's something about Opening Day that's a little more special than most days in baseball. Everyone is 0-0, everyone is tied for first in their divisions and for at least one day, everyone has a chance to be a playoff team.
There are few must-wins in a 162-game schedule, but getting a win on Opening Day can certainly help set the tone for the season. In the Twins' first most important game of the year, Berrios was an ace.
He was perfect the first time through the Cleveland batting order, with four strikeouts. He finished with 10 strikeouts, allowed just two hits and tossed 7 2/3 innings of shutout baseball in front of a sellout crowd of 39,519 at Target Field.
He had the type of stuff that usually isn't seen in the first start of the year.
"I think he's an ace in the making. He has the attributes of an ace that are actually the ones you see every day, on the days he's not pitching," Twins manager Rocco Baldelli said. "He has all of that, he brings that to the table every day when he shows up, when he goes up. He's a leader, that's what he is."
Baldelli's toughest decision in his first game as a manager was how long to keep Berrios in the game. His 10 strikeouts were a Twins record for an Opening Day starter, the most since Brad Radke had eight in 1996. It was also the seventh time in his career he's had 10 strikeouts.
Brad Miller got a two-out single in the eighth, just the second hit of the game for the Indians. Out came Baldelli, to both congratulate and remove his ace after 96 pitches. The two shook hands, and Berrios tipped his cap to the sellout crowd.
"It deserved more than a handshake, I probably could've given him a little hug. When a guy pitches that well and you go out there to get him, it's never easy because you want to watch him keep pitching," Baldelli said. "I was just in appreciation of what he did out there."
The 10 strikeouts in itself was impressive. But Berrios had Indians batters off balance the entire afternoon. They were constantly guessing at what was coming, and even if they knew what might be, they still couldn't hit it.
On Opening Day, teams put their perspective aces on the mound. For Cleveland, Corey Kluber retired 14 straight batters to start the game. The Twins' first base runner was a Marwin Gonzalez walk in the fifth, Byron Buxton got the first hit with a double in the sixth and the Twins finally got to Kluber in the seventh.
Berrios was just a little better, and he had to be. He had ace type of stuff.
"Thank god I'm being given this opportunity. It's something that happened from last year to this year, and I'm taking the opportunity," Berrios said. "I feel blessed to be able to support this team. Just stay healthy the rest of the season and see what happens."
The Twins haven't had an ace pitcher since Johan Santana was from 2003-07. Santana won the Cy Young Award in 2004 with a 20-6 record and was a three-time All-Star with the Twins.
Berrios has shown the potential to be an ace, but also struggled at times. He finished 16-16 last season and pitched at least six innings in 18 of his 32 starts, including a complete-game shutout on Opening Day at Baltimore.
He's 30-26 now for his career after Thursday's win and has a 4.39 earned run average. He's already got 400 strikeouts in 404 career innings. When his breaking pitches are on and he can locate his mid-90s fastball, he's virtually unhittable.
He's got ace type of stuff, and he doesn't shy away from wanting to be an ace. Berrios gives the Twins a great chance to win every time he toes the rubber.