Wild down 3-1 against Winnipeg after 2-0 playoff loss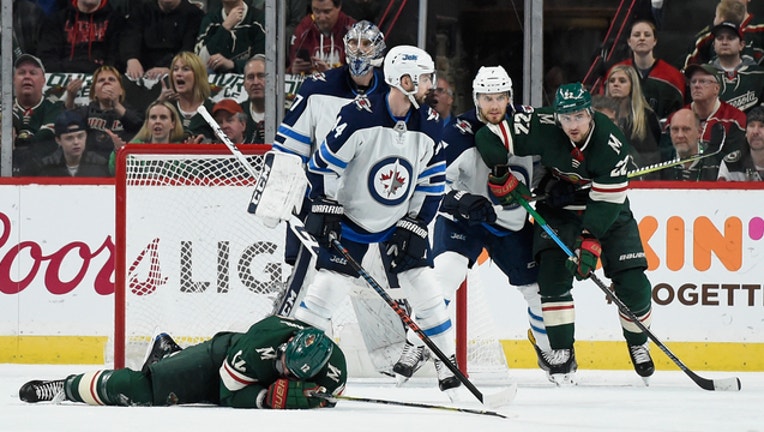 article
ST. PAUL, Minn. (AP) - Mark Scheifele scored both goals for Winnipeg and Connor Hellebuyck made 30 saves for his seventh shutout this season, as the Jets beat the Minnesota Wild 2-0 on Tuesday night to take a 3-1 lead in the first-round playoff series.
Scheifele scored with 28 seconds left in the first period and tacked on an empty-netter with 11 seconds remaining, pushing the Wild to the brink of elimination.
Devan Dubnyk stopped 26 shots for the Wild, who played without star left wing Zach Parise because of a broken sternum suffered in Game 3. After a six-goal outburst in their last appearance, the Wild had trouble generating the same kind of relentless attack and simply couldn't slide any pucks past Hellebuyck.
Now the series shifts back to Winnipeg, with Game 5 on Friday night.
After a tightly whistled game here Sunday night, there were only three penalties called. The Jets closed up the holes they gave the Wild through the neutral zone in Game 3. Hellebuyck, who was named earlier in the day one of the NHL's three finalists for the Vezina Trophy that's awarded annually to the best goalie in the league, bounced back in a big way from the previous game when he gave up six goals and was pulled after two periods.
The crowd, fired up about the opportunity the Wild had to even the series, produced plenty of collective groans after difficult saves by Hellebuyck after jeering him in Game 3 with the customary "Sieve! Sieve! Sieve!" chant. One of Hellebuyck's most important stops came in the opening minutes of the second period, when a 3-on-1 rush by the Wild set up Matt Dumba for a wrist try denied with a sprawling glove stop.
Scheifele was part of the sandwich hit with Ben Chiarot late in the third period of Game 3 on Parise that led to a broken sternum for the Wild's all-time postseason scoring leader, a stunning setback for the home team revealed about four hours before Game 4.
Jets coach Paul Maurice was upset by a collision initiated by Marcus Foligno with defenseman Tyler Myers that knocked his former Buffalo teammate to the ice in the second period and out for the remainder of Game 3 with an apparent injury to his leg.
So with these Central Division rivals squaring off in another high-stakes contest, the intensity was there to match. Jets defenseman Josh Morrissey delivered a cross-check to Eric Staal's jaw that went unnoticed by the officials, drawing the ire of the fans and a red-faced Wild coach Bruce Boudreau.
The agitation in the arena spiked a little later in the first period, when the Jets kept the puck in the Wild zone after a failed clearing attempt and Kyle Connor fed Scheifele with a slick give-and-go pass for the 1-0 lead right before the first intermission.