Vikings top pick Jordan Addison accidentally hangs up on coaches during NFL Draft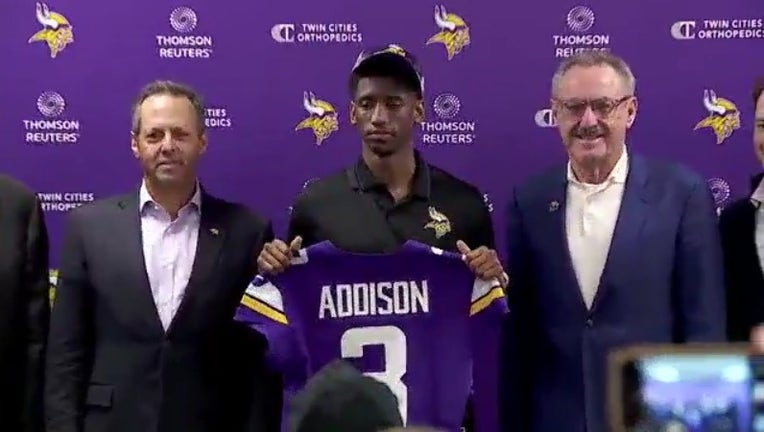 article
MINNEAPOLIS (FOX 9) - The Minnesota Vikings are in the middle of their offseason workout program, but took us inside their war room during the NFL Draft with a video posted to social media on Friday.
In the video, Kwesi Adofo-Mensah and Kevin O'Connell go back-and-forth during the first round leading up to the Vikings having the No. 23 overall pick. It appears Adofo-Mensah is contemplating several trade offers as the first round picks come down.
The popular thought going into the draft was the Vikings might trade up to find a successor for Kirk Cousins, or move back, acquire more picks and add to the defense.
"I actually don't want to do that trade," Adofo-Mensah says in the video.
The Vikings used their entire allotted time, and ended up with USC wide receiver Jordan Addison at No. 23. He'll give Cousins options as star Justin Jefferson demands a defense's attention.
In the funniest part of the piece, Addison accidently hangs up on multiple coaches, including O'Connell and offensive coordinator Wes Phillips, after talking with Adofo-Mensah.
"I guess when the general manager says be easy you can hang up," O'Connell jokes. "Will you not hang up on our draft picks before I get to talk to them?"
With their next pick, the Vikings took a teammate of Addison's in USC defensive back Mekhi Blackmon. There were plenty of jokes about who would win 1-on-1 battles in training camp.
The Vikings used a fifth-round draft pick on BYU quarterback Jaren Hall.
Part of the video shows Hall doing an interview and watching film with O'Connell and the coaches during a visit at the NFL Combine. He talks about being an instinctive player when plays go off-script.
That's been one of the biggest criticisms of Kirk Cousins during his five seasons in Minnesota: An inability to execute when a play breaks down. It's still far too early to determine if Hall can be the next quarterback after Cousins.