Vikings place Cousins, Mond and Stanley on reserve/COVID-19 list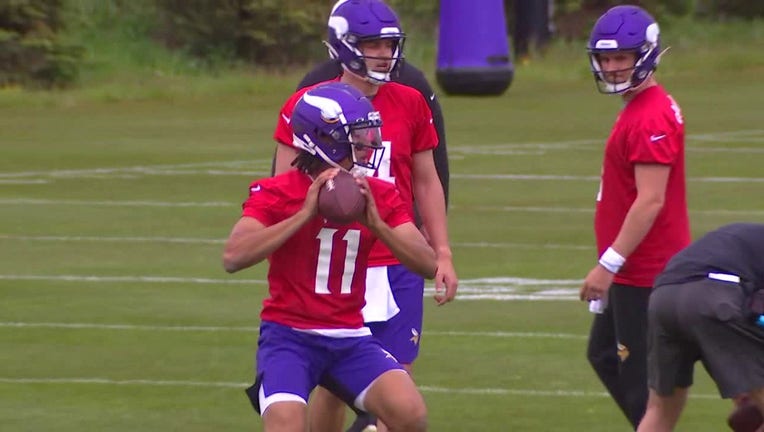 MINNEAPOLIS (FOX 9) - The Minnesota Vikings announced on Monday they've placed quarterbacks Kirk Cousins, Kellen Mond and Nate Stanley, along with receiver Myron Mitchell, on the reserve/COVID-19 list.
It means none of the four was on the field at TCO Performance Center Monday as the Vikings practiced in front of fans at training camp. It was supposed to be the team's first practice in pads, but due to some complicated league rules, the Vikings will be in pads for the first time on Tuesday. Cousins, Mond and Stanley were not available when the Vikings hosted their night practice on Saturday in front of more than 4,200 fans at TCO Stadium.
Mond reportedly tested positive for COVID-19, and Cousins and Stanley are considered high risk close contacts. That left Jake Browning as the only quarterback available for Saturday night's practice.
Mike Zimmer, clearly agitated by the news before the practice, used it as a platform to encourage his players to get a COVID-19 vaccine. Before Monday's practice at TCO Performance Center, Zimmer doubled down on his comments from Saturday, saying he "just didn't understand" why certain players wouldn't get a COVID-19 vaccine, especially after the 2020 season had so many restrictions for players and coaches.
"Going through all the things we had to do last year, masks and protocol and traveling. You can't leave for a day, you can't go out and see your family, you can't go to dinner when you're on the road, you've got to wear masks when you're on the plane, all that stuff," Zimmer said. "It was just difficult, and I just don't understand. I think we could put this thing to bed if we all do this (get vaccinated), but it is what it is."
All four players must participate in team activities virtually until they are cleared to return to TCO Performance Center. Mond, who is vaccinated, can return once he has two consecutive negative tests 24 hours apart. Players not vaccinated have a five-day window to test negative before they can return.
The other reality for Zimmer is that if a key player, especially one that is not vaccinated, tests positive for COVID-19 during the regular season, they risk their availability for game day and it could result in a loss. 
"I talked to the guys about it. There's quite a few guys, they're just against it. I'm not going to be able to change their mind. It's like half the country I guess. I know there's some that just won't do it," Zimmer said. "I probably won't be happy that we lost the game first. I probably won't be happy that we could've prevented this. Some of them just won't do it. I shouldn't say it, but some of the things they read are just, whew, out there. it's their belief. Maybe they don't believe what Dr. Sills and the NFL is telling them, I don't know."
If enough players test positive before a game, the Vikings risk a forfeit and taking a loss for future playoff seeding.
"Hopefully it doesn't come to that," Zimmer said.
It remains to be seen if Cousins and Stanley will be back by the weekend. The Vikings host a scrimmage from 12-2 p.m. on Saturday at U.S. Bank Stadium.
The Vikings were supposed to have their first practice in full pads on Monday. But due a NFL rules, they must take five days to get acclimated at training camp and have a full off day before pads are allowed. The Vikings will be in pads for Tuesday's workout.