Vikings GM: Justin Jefferson contract extension 'a high priority'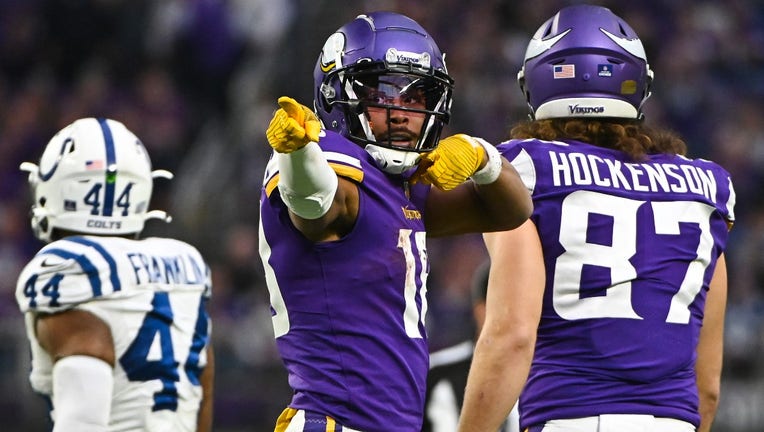 article
MINNEAPOLIS (FOX 9) - Minnesota Vikings General Manager Kwesi Adofo-Mensah has several roster decisions to make this offseason, some as early as next week when the NFL league year starts.
Adofo-Mensah addressed a few of those decisions Tuesday morning ahead of the NFL Combine Indianapolis, where teams and front offices are getting a look at some of the top prospects ahead of the NFL Draft. First and foremost, Adofo-Mensah made it very clear he wants Justin Jefferson in a Vikings' jersey long-term.
Jefferson led the NFL in 2022 with 128 catches and 1,809 yards, coming just shy of Calvin Johnson's NFL record 1,964 yards. Jefferson enters the final season of his rookie contract next year, but it's in Adofo-Mensah's best interest to sign him to an extension before next season. He's likely to demand more than $30 million per season, which would make him the highest-paid receiver in the NFL.
"I don't want to be the Vikings GM without that guy on our team, so it's a high priority," Adofo-Mensah said. "We've got to make sure that we do it in the order that we can do it in, given all of our other decisions we have to make. It's not just having an elite player, the human, it's even better seeing it up close every day. He just wants to win. The first time I met him he says, I just want to put wins on the board. The way he said it, that's the guy you see on Sunday. He's trying to put the Minnesota Vikings on his back, he wants to win a championship. When you have people like that in your building, you try everything you can to not let them out."
KIRK COUSINS MEETS THE 'STARTING QB LEVEL' THRESHOLD
Adofo-Mensah also indirectly addressed the futures of Kirk Cousins and Dalvin Cook on Tuesday.
Tom Pelissero with the NFL Network reported earlier this week the Vikings are not interested in giving Cousins another one-year extension. Rather, they could sign him to a new multi-year deal, or let his contract play out as they search for his eventual replacement. 
Cousins, 34, has played five seasons in Minnesota and has one playoff win with the Vikings. He threw for more than 4,500 yards, 29 touchdowns and 14 interceptions this season, and tied an NFL record with eight fourth quarter comebacks. That's despite being sacked a career-high 46 times.
Adofo-Mensah said "Let's talk full numbers" when it comes to Cousins on Tuesday.
"So we talk about necessary and sufficient conditions, right? A necessary condition is having a starting level quarterback, a quarterback of above a certain threshold. That doesn't mean for sure you're going to win, that's not the only thing you need. But that is one of the things you need. Having a good level quarterback is a necessary condition, Kirk meets that threshold," Adofo-Mensah said. "Now how do you build the rest of the team around him so that you can make sure you win in that way? Different quarterbacks require different things around them, but we know what for sure he meets that threshold. How long does he meet that threshold? Those are things we gotta answer. I do know one thing, he is good enough, he meets that first threshold and that's a question that a lot of people can't answer with a yes. So we've got to treat that in the proper accordance that it is."
DALVIN COOK'S FUTURE REMAINS IN LIMBO
Adofo-Mensah and the Vikings have a decision to make on Cook. He's due to make $14 million against the team's salary cap, and is coming off year where he started every game for the first time in his career.
Cook ran for 1,173 yards and eight touchdowns last season. If the Vikings want to keep him, they'll have to pay him. Reports are he is not interested in a restructure or pay cut. So Adofo-Mensah has a decision to make on Cook, one of many veterans on the Vikings.
"Starts with having a great player, a great leader. In the NFL you have a lot of constraints, salary cap and different things. We're trying to figure out how we can operate under those things," Adofo-Mensah said. "You always start with a great player, a great leader and we'll go from there."
We'll hear from Kevin O'Connell on Wednesday.