Vikings WR Adam Thielen at Super Bowl events in Arizona: 'I want to retire a Viking'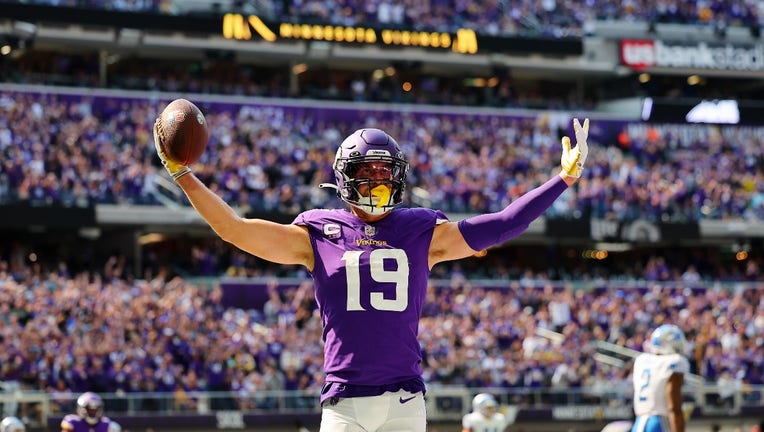 article
MINNEAPOLIS (FOX 9) - Minnesota Vikings wide receiver Adam Thielen is in Arizona this week, and the writing might be on the wall that his days with his hometown team might be numbered.
Thielen played in the Pro-Am for the Waste Management Phoenix Open on Wednesday. Thursday, he was making the rounds on various national shows, talking about his NFL future. Thielen is 32 years old and has spent all nine of his NFL seasons with the Vikings after earning a roster spot through the practice squad.
But the Vikings and Thielen have a problem, and it's about money. Thielen has a $19.9 million hit against the team's salary cap, and his $11.8 million salary for 2023 becomes fully-guaranteed on March 17. The Vikings and Thielen are "working on" that cap hit.
There's also a reality that Thielen might move on from the Vikings and find a team that will utilize his talent more. He was asked about that on ESPN's First Take with Stephen A. Smith.
"I feel great and I feel like I can play this game at a really high level. For me, I just want to be able to help a team win. I feel like I can play at a high level, so I want to be able to help a team and show them that I can play at a high level to help them win football games. Will that be in Minnesota? I don't know. I hope so, I hope to retire a Minnesota Viking," Thielen said. "I grew up a Vikings fan watching Cris Carter, Randy Moss and I want to retire a Viking. Will that happen? I don't know, this is also a business. I want my opportunity to show that I can play at a high level, so we'll see what happens."
Thielen made 70 catches for 716 yards and six touchdowns this season as the Vikings' No. 2 receiver behind Justin Jefferson, who led the NFL with 128 catches and 1,809 receiving yards. 
Despite playing in only 13 games in 2021, Thielen had 67 catches for 726 yards and 10 touchdowns, the second-most in his career. He was asked again about his future with the Vikings on the Pat McAfee Show.
The Detroit Lakes native said all the right thing, but what ends up actually happening will say a lot more.
"Obviously I'd love to finish my career with Minnesota. I grew up in Minnesota, played my whole career there so far. At the end of the day, I feel like I can still play at a high level," Thielen said.