US Bank Stadium needs blackout drapes for Final Four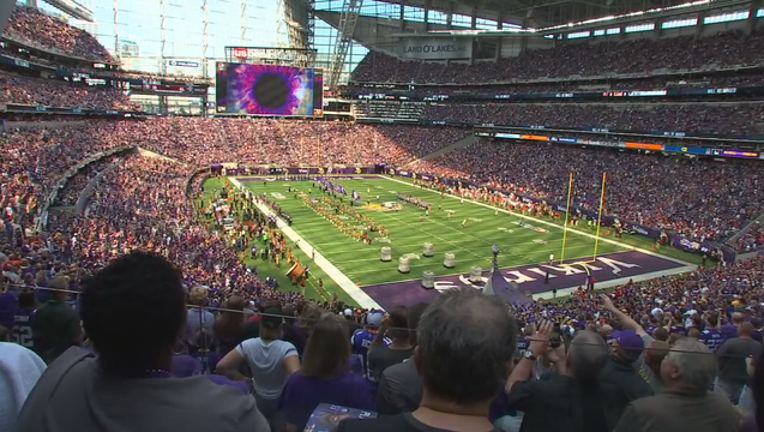 article
MINNEAPOLIS (KMSP) - U.S. Bank Stadium is going shopping for drapes. On Feb. 6, two days after the Super Bowl, the Minnesota Sports Facilities Authority submitted a request for proposals for massive blackout curtains to be installed before the 2019 NCAA men's basketball Final Four.
According to the MSFA, the darkening solution is required by every NCAA Final Four venue that allows daylight into the venue, and the stadium authority has been aware of this requirement since 2014.
While the Final Four is the main reason for the drapes, the MSFA's request for bids says "permanently installed hardware" is preferred, as the stadium operator plans to use the drapes for other events.
"There are events in the future that have expressed interest in a darkening solution," MSFA spokesperson Jenn Hathaway told Fox 9. "It's another feature that we can use to attract clients to the stadium."
It's unclear how much the giant drapes will cost, but MSFA Chairman Mike Vekich told the Star Tribune the stadium authority has an estimated $7.25 million budget for 2018 building improvements and the money would come from that account. Vekich doesn't believe the MSFA will need additional public funding for the drapery.
U.S. BANK STADIUM BLACKOUT CURTAIN SYSTEM REQUEST FOR PROPOSALS
Documents from the MSFA include the following requests and requirements for the stadium drapery:
"Design, manufacture and install a black out curtain drapery system for US Bank Stadium. The primary use will be for the 2019 NCAA Men's Basketball Final Four, but will also be used for other events. Permanently installed hardware to facilitate repeated use of the system is preferred where possible. "
"An acceptable option is drape panels attached to a cable grid (standoffs will be required in some areas). Fabric to be a medium weight IFR polyester. A mechanical system is preferred where applicable"
"Innovative solutions are encouraged. Covering the ETFE from the exterior is acceptable, given the design and construction lends itself to that type of a solution. Using drapery under the speakers is acceptable as long as the blackout intent is met and the sports lights and audio systems to function.
The desire is to procure a system that can efficiently be installed repeatedly (once a year for example) without a large labor cost component that would make it unattractive to prospective clients."
TIMELINE
Site Walk Through Visit Dates: Between March 12 and March 16, 2018 (by appointment only) 
Written Questions Due March 21, 2018 by 5PM 
Proposals Due April 3, 2018 by 5PM 
Interviews of Shortlisted Proposers Week of April 9, 2018
Final Negotiations Week of April 16, 2018 
Selection of Provider April 20, 2018 
Project Completion March 14, 2019