Twins OF Byron Buxton not on ALDS Playoff roster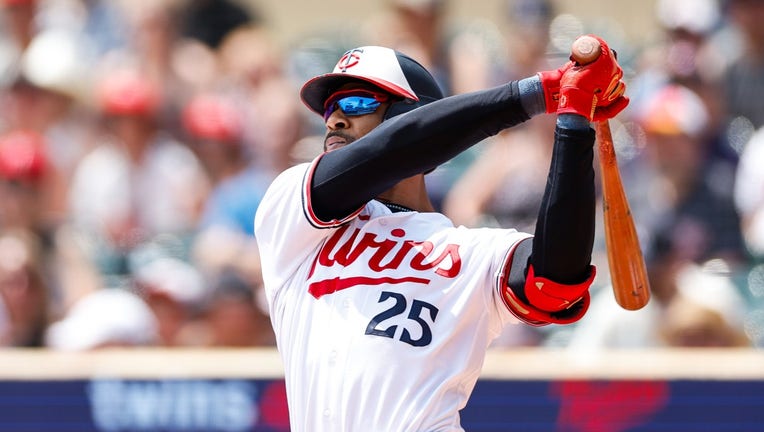 article
MINNEAPOLIS (FOX 9) - The Minnesota Twins start the American League Divisional Playoffs against the Houston Astros Saturday afternoon, and will do so without outfielder Byron Buxton.
He was not on the team's 26-man roster that was due by 10 a.m. Saturday. Buxton has not played since Aug. 1 after going on the injured list with a right hamstring injury. He appeared set to return to the outfield during a rehab stint with the St. Paul Saints, but re-aggravated it playing one game in center field. He's also been dealing with an ailing knee injury most of the season, and his 85 games this season were all as a designated hitter.
Buxton is hitting .207 with 17 homers and 42 RBI this season. The only other change of note is pitcher Bailey Ober replacing Kody Funderburk. Ober learned during the team's workout on Friday in Houston that he will get the Game 1 start opposite Justin Verlander. Pablo Lopez will start Game 2.
Ober was 8-6 in 26 starts this season with a 3.43 earned run average. He struck out 146 batters in 144 1/3 innings. That is a new career-high in innings for Ober. In four starts in September after getting some time off, Ober had a 2.08 ERA in 21 2/3 innings while striking out 26 hitters and walking just three.
The Twins advanced to the ALDS against the Astros in large part to their pitching against the Toronto Blue Jays. They limited the Toronto lineup to one run over 18 innings.
The series also means a reunion for Carlos Correa after he won a World Series in 2017 with the Astros. Correa made three pivotal defensive plays in the Wild Card win over the Blue Jays, throwing out Bo Bichette at home plate in Game 1. He then called for a pickoff play on Vlad Guerrero Jr. in Game 2 that ended a scoring threat, and started a double play with the bases loaded that ended another threat. Correa also had the eventual game-winning hit in Game 2.
The Twins won their first playoff series in 21 years in beating the Blue Jays. Now, they need three wins to advance to the American League Championship Series. They're guaranteed a Game 3 at Target Field next Tuesday, and need to win one of the first three games to guarantee a Game 4.