Towns on 2nd All-Star selection: 'It's special'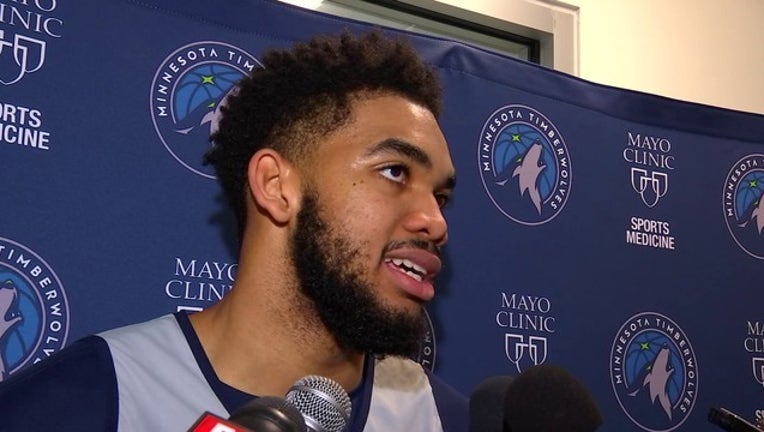 MINNEAPOLIS (FOX 9) - Karl-Anthony Towns was sitting on a bench at a movie theater in the West End on Thursday when he learned he would be a part of the NBA All-Star weekend.
He was hosting a viewing party for Timberwolves and Lynx staff for "What Men Want," a new movie that he makes an appearance in. Sitting on that bench with phone in hand watching the announcement for the Western Conference reserves, he waited. And waited, then waited some more.
Then, his name popped up on the screen with a highlight reel. Towns was the last name revealed to be chosen for the NBA All-Star Game. It's his second straight All-Star Game appearance, and it came during an emotional time. He learned earlier in the day that a high school friend had passed away.
The Timberwolves released a video on social media, showing Towns' emotional reaction to All-Star selection. He dropped his phone, put his head in his hands and lost his emotions for a good couple minutes. He then walked into the theater for the movie premiere to an ovation.
"It's been a very trying year for myself, and that's why I had so much emotion when I made it, because I'm a guy who's very passionate, but I'm not very emotional when it comes to things. No matter who you are when you get that kind of moment, all the emotions came out," Towns said. "When you hold everything in for so long and you have that moment, it's just kind of rewarding for how much you've done in your life and how much you've went through."
It was a roller-coaster of emotions for Towns, and it's been a roller-coaster of a season for him with the Timberwolves. He's reportedly had differences with now former teammate Jimmy Butler, and had to deal with a head coaching change after Tom Thibodeau's dismissal Jan. 6.
Through it all, Towns has been one of the Timberwolves' most consistent players this season. He's the only player in the NBA to be averaging 20-plus points, 10-plus rebounds, 1.9 blocks per game and shoot 37 percent or better from three-point range.
Timberwolves interim coach Ryan Saunders was at the theater with his wife on a date night for the premiere when Towns got to celebrate the news with the team.
"It's fun to be a part of. He deserves it, it's a great honor and the fact that his family is right there too, and a lot of his teammates and people within the organization. It's awesome that we were all able to share it with him because he deserves it," Saunders said.
The Timberwolves are 51 games into the season and, at 25-26, are 2.5 games out of the No. 8 spot in the Western Conference playoffs. In 11 games under Saunders, the Timberwolves are 6-5. Towns is averaging 24.1 points and 11.2 rebounds per game in those 11 games.
In Saunders' third game roaming the sidelines, Towns went off for 27 points, 27 rebounds, four blocks, three assists and two steals as the Timberwolves beat the New Orleans Pelicans 110-106.
But it was Tuesday night's game against the Memphis Grizzlies that Towns might keep in the memory bank for a while. He spent most of the night in foul trouble and finished with 16 points, but he was in the right place at the right time when an Andrew Wiggins jumper in overtime missed. He got the ball and got a shot off from the baseline with 0.1 seconds left. Nothing but net, Timberwolves win.
After an all-around frustrating night, all he could do was laugh.
"Wins always make everything taste sweeter. Obviously the game-winning shot was cool, frosting on the cake, but the cake was really made by my teammates," Towns said. "I was in foul trouble, I hadn't been playing well all night. I was just glad I was able to put a topping on the cake."
Already the face of the team, Towns has had to take on an even greater load lately. Robert Covington, Jeff Teague, Tyus Jones and Derrick Rose have all missed games with injuries. Towns just continues to put up numbers, be a leader and try to give Minnesota a chance to win by being on the floor.
Towns and the Timberwolves have six more games until the NBA All-Star break. They start that stretch against the Denver Nuggets (35-15), the No. 2 team in the Western Conference. The Nuggets are just a half game back of the Golden State Warriors and face the Houston Rockets Friday night.
The Timberwolves will get more than a week off for the All-Star break, while Towns will head to Charlotte for the weekend festivities. It's an honor he will never take for granted. After all in his words, nothing is guaranteed.
"Being very grateful, because you never know if I'll be able to have another chance to be an All-Star, you never know if I'll have a chance to play NBA basketball," Towns said. "Today could be the last day, years from now might be the last day. No one knows, so I take every moment very special."