Timberwolves sign Jaden McDaniels to multi-year extension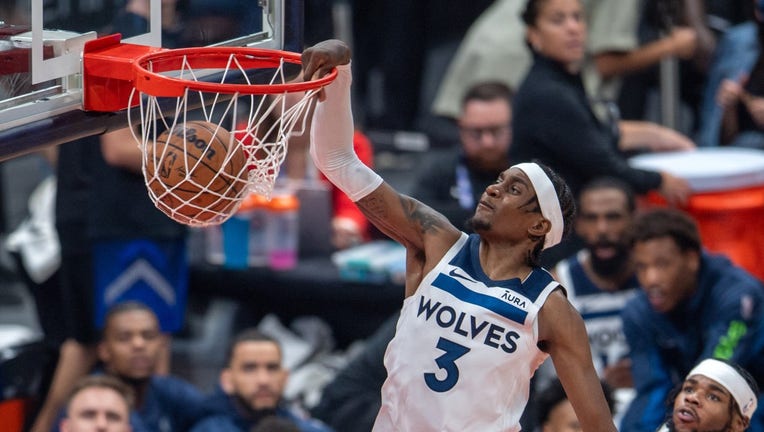 article
MINNEAPOLIS (FOX 9) - The Minnesota Timberwolves open the regular season Wednesday night at the Toronto Raptors, and they'll do so with Jaden McDaniels on a new long-term contract.
The Timberwolves announced Monday they've signed McDaniels to a multi-year extension. According to Shams Charania and Jon Krawczynski with The Athletic, it's a five-year deal worth $136 million. Monday was the deadline to get a long-term deal done, and the two sides came together.
McDaniels was the No. 28 overall pick in the 2020 NBA Draft. He's started 137 games in three seasons with the Timberwolves. He started 79 games last year and averaged 12.1 points and 3.9 rebounds per game. He missed the Western Conference Playoff series against the Denver Nuggets after breaking his hand punching a wall at Target Center late in the regular season.
In six previous playoff games with the Timberwolves, McDaniels averaged 9.3 points and averaged nearly 53 percent shooting from the field. McDaniels shared a message with Timberwolves' fans via social media Monday night.
"What's up Timberwolves fans? I'm excited to stay here with y'all and continue and try to win a championship. See y'all this weekend versus Miami," McDaniels said.
It's the latest in a series of large financial investments for the Timberwolves. They signed Anthony Edwards to maximum extension in the offseason worth up to $260 million. Karl-Anthony Towns is starting a super max contract, and the Timberwolves have big money invested in Rudy Gobert after trading for him last season.
The moves likely put the Timberwolves in position to be a luxury tax team, a situation they haven't faced in decades.
The Timberwolves' home opener is set for Saturday night against the Miami Heat at Target Center.