Timberwolves rest KAT, get balanced scoring in 119-115 win over Kings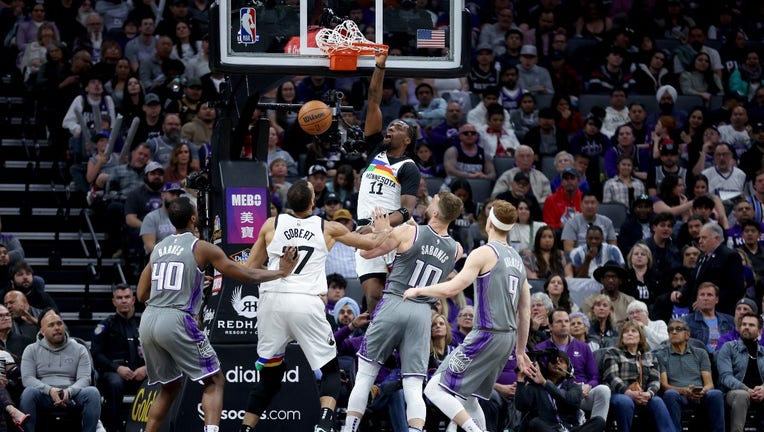 article
MINNEAPOLIS (FOX 9) - The Sacramento Kings were ready to celebrate their first playoff berth in 16 years in front of an electric crowd, but the Minnesota Timberwolves had other ideas.
With Karl-Anthony Towns resting as he comes back from a four-month calf injury, the Timberwolves beat the Kings 119-115 Monday night to improve to 39-37 on the season, jump to the No. 6 spot in the Western Conference and earn their fourth straight win. With just six regular season games to play, the Timberwolves are one game out of the No. 5 spot in the West, and 1.5 games behind the Suns for the No. 4 spot an chance to earn home court in the first round of the NBA Playoffs.
The Timberwolves are in Phoenix Wednesday night. Towns returned last Wednesday and hit a pair of free throws with less than three seconds to play to beat the Atlanta Hawks. Sunday, Towns hit a 3-pointer with less than seven seconds left to lift the Timberwolves over the Golden State Warriors.
Monday, the scoring effort was as balanced as it's been all season. The Timberwolves had seven players in double figures. After being plagued by foul trouble Sunday, Jaden McDaniels led the Timberwolves with 20 points. Kyle Anderson filled the stat sheet with 15 points, 11 assists, four rebounds and two steals. Anthony Edwards had 17 points, seven assists and five rebounds. Rudy Gobert had 16 points and 16 rebounds, Naz Reid had 18 points and four rebounds and Mike Conley had 16 points on 6-of-8 shooting.
"Whatever I can do to help this team win," Reid said. "Each and every year I've been on this team, we've gotten better. You can see the will and the want on this team that we have right now. I feel like we can go really far if we all continue to do what we're doing right now."
It could've been more dominant, had the Timberwolves shot better than 22-of-34 at the free-throw line.
In what's been an up-and-down, topsy turvy season filled with questions after the blockbuster trade for Gobert and being without Towns nearly four months, the Timberwolves appear to be hitting their stride when it matters the most. Now, they have to finish the last six games and earn a playoff bid.
"This Minnesota Timberwolves organization is looking to win," Conley said. "I want to play until I'm 40 if I can be a part of these situations where we can compete at the highest level against the best competition in the world and do it with some guys like this."
"We play every game like there's no tomorrow," Gobert said. "That's the mindset that we need regardless of who's playing, who's not playing."