Timberwolves guard Austin Rivers suspended 3 games for altercation with Mo Bamba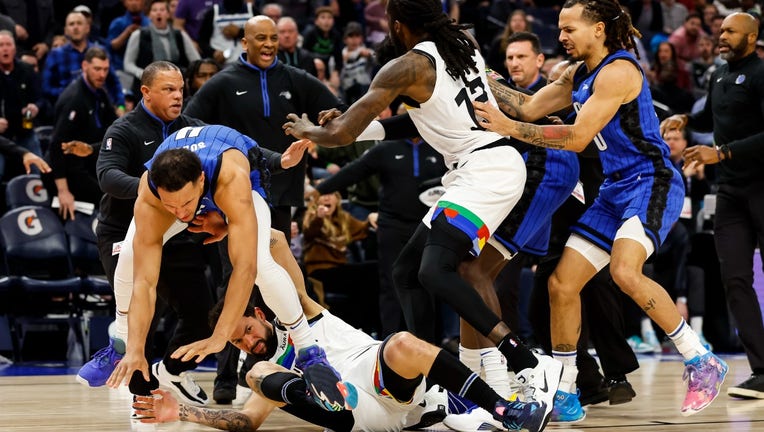 article
MINNEAPOLIS (FOX 9) - The NBA suspended Minnesota Timberwolves guard Austin Rivers for three games for his role in an altercation with Mo Bamba Friday night in a loss to the Orlando Magic at Target Center.
Bamba was suspended four games, Jalen Suggs got a one-game suspension, and Jaden McDaniels was fined $20,000 for his role. It was late in the third quarter when Bamba had words for Rivers after missing a 3-pointer from near the Magic bench. The next time down the floor, Rivers confronted Bamba, who left the bench to throw punches at Rivers.
Suggs came to get Rivers off Bamba, as McDaniels and Taurean Prince tried to do their part to play peacemaker. The melee resulted in five ejections.
"I actually missed the initial incident that caused it all, we all were sorting through the wreckage. Got a guy come off the bench and throw a punch, pretty egregious," Timberwolves coach Chris Finch said after the loss. Then obviously it was a melee and somehow our guys get punished. We lose more guys in the melee for 'not being peacekeepers.' I just looked at the video and I didn't see any difference in what our guys were doing and what their guys were doing."
Bamba also reportedly tried to go after Rivers in the tunnel behind the court after the altercation before being stopped by security. He declined to speak with reporters after the game. Rivers, an Orlando native, took questions for several minutes. They also talked trash to each other on social media after the game.
"I had got a good, good three, missed that and I just heard language on their bench just by one dude. He had said something the play before as well. I'm not really gonna get into what he said, I'm not gonna snitch on the dude or whatever. I just didn't like the way he was talkin' to me, for no reason too. I don't even know that dude, I don't know anything about him, obviously I just know he's a player for the Magic," Rivers said. "He proceeded to talk so that next possession when I went down there I just said pretty much 'Just keep it respectful, bro.' I'm not trying to portray myself as some wanna-be tough guy, that's not even my M.O. For anybody who knows me I'm not gonna let someone disrespect me or talk crazy. I just feel bad that I got thrown out of the game and I feel like I let my team down and in the process, two other guys, important players for our team, got thrown out as well which makes me feel really bad."
Rivers added, "After I went up to him, someone gets up like that, gets in your face, that can go one of two ways. He threw a punch and missed and then somebody grabbed me, (Jalen) Suggs I think grabbed me by my neck, that's what bothered me the most, that's the only thing that's kind of hurting right now, somebody came and grabbed me by my neck, that's a big no-no. Then I was on the ground, for forever time and I don't know, it was chaos. I don't really have too much to say but, that's the only thing that really affected me at all, was Suggs came behind and grabbed my neck. He's coming full speed, grabbing my neck like that. Thankfully, nothing really serious happened. Other than that, I'm fine."
The Timberwolves dropped to eighth in the Western Conference after the loss. They finish a six-game home stand Sunday night against the Denver Nuggets before starting a four-game road trip at Denver on Tuesday. Rivers will miss both games against the Nuggets, and Wednesday's game at the Utah Jazz.