Takeaways: Vikings beat Bears 19-13 to improve to 2-4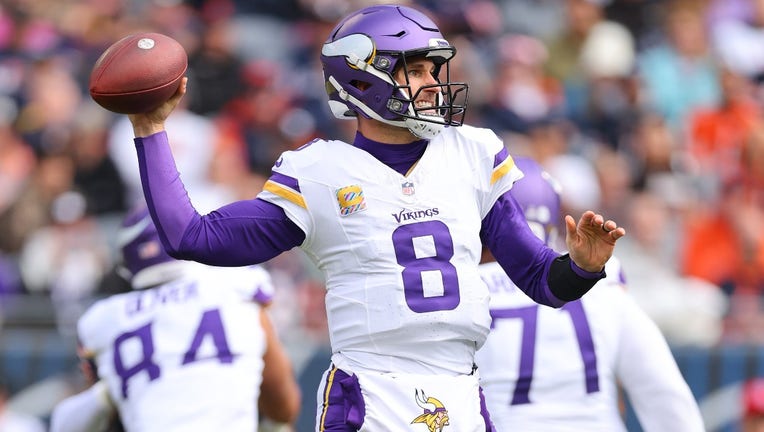 article
MINNEAPOLIS (FOX 9) - The Minnesota Vikings are 2-4 after a 19-13 win over the Chicago Bears at Soldier Field.
It wasn't the prettiest game, but not many in the NFC North Division are. The Vikings relied on a defense that forced three turnovers, one for a touchdown, collected five sacks and knocked Justin Fields out of the game in the third quarter.
There are still plenty of things to fix, especially the offense without Justin Jefferson. But the bottom line is the Vikings are 1-0 in the NFC North, and for now, are blocking out the outside noise that comes with a slow start. Kirk Cousins isn't going anywhere, and Kevin O'Connell hasn't lost the locker room. Far from it.
"My job is to continue to get the team to focus on the things we can control, which is our performance, our response to some adverse situations that a lot of times we've caused ourselves. Look at it as an opportunity to respond and do it for the betterment of the team," Vikings coach Kevin O'Connell said Monday. "We responded yesterday on the road when it would be very easy for us to either allow that noise to start overtaking part of our preparation or overtaking our ability to execute in the game. Keep it about one play at a time, look at it as an opportunity to go make a play to put the team back on track to where we want to be."
Here are takeaways from Sunday's win:
BIG DAY FOR JORDAN HICKS
Jordan Hicks is 31 years old and in his ninth NFL season. He wanted to prove to his younger defensive teammates that he can still play. He did that and more on Sunday. Hicks led the defense with 10 tackles, intercepted a tipped pass and picked up a Tyson Bagent fumble and ran it 42 yards for a score. It was the game-changing sequence, and the Vikings need more of it going forward.
VIKINGS (FINALLY) WIN TURNOVER MARGIN
It is in fact legal to win the turnover margin, despite what the Vikings had put on tape through five games. They led the NFL with 13 turnovers, and nine lost fumbles. Kirk Cousins did have an interception Sunday, off a tipped pass. But the Vikings' defense forced three turnovers. Hicks intercepted a Justin Fields' pass after pressure from Danielle Hunter. Josh Metellus forced a Bagent fumble that Hicks scored on, and Byron Murphy Jr. intercepted Bagent with two minutes to play. We've seen the Vikings give the ball away all season, it was refreshing to see them take it back.
LIFE IS TOUGH WITHOUT JUSTIN JEFFERSON
Justin Jefferson missed his first NFL game Sunday, on IR with a hamstring injury. Without the star receiver, the Vikings' offense lacked consistency and efficiency. Jordan Addison scored his fourth touchdown of the season, but the Vikings managed just 220 total yards, 12 first downs and were only 2-of-13 on third down. The Vikings also had several dropped passes for the second straight week, and ran for just 46 yards.
"We have built a lot of things we do around him, but that is by no stretch going to be allowed to be an excuse for us not going out there and playing to our potential on offense. It starts with me and giving the tools these guys need to have success," O'Connell said. "I do think that complete performance is out there for us."
VIKINGS ARE SUDDENLY SACK HAPPY
Don't look now, but the Vikings are in the top-10 in the NFL in sacks. With 18 through six games, they're eighth in the league. Danielle Hunter is tied for the league lead with eight, after getting two Sunday. Harrison Smith has three, and D.J. Wonnum and Marcus Davenport have two each. The new aggressive attack is paying dividends, though they need to get better in the run game.
BLOCKING OUT THE OUTSIDE NOISE
The Vikings could easily have chosen to tank, talk Kirk Cousins into waiving his no-trade clause and shop other players after a 1-4 start. They've chosen to fight, and they're clearly hearing O'Connell's message. As long as they keep winning in the division, the season isn't over. They could become one of the few teams to make the playoffs after a 1-4 start. There's still plenty of football left.
INJURY UPDATE
O'Connell said Monday Davenport has a left ankle injury, and it's definitely something they'll have to monitor. Davenport missed the first two games of the season with a right ankle injury, and played 17 snaps Sunday before exiting. Ezra Cleveland suffered a toe injury, and Akayleb Evans has oblique soreness. Both are considered day-to-day.