St. Thomas closes out 3rd FCS season Saturday against Valparaiso on FOX 9+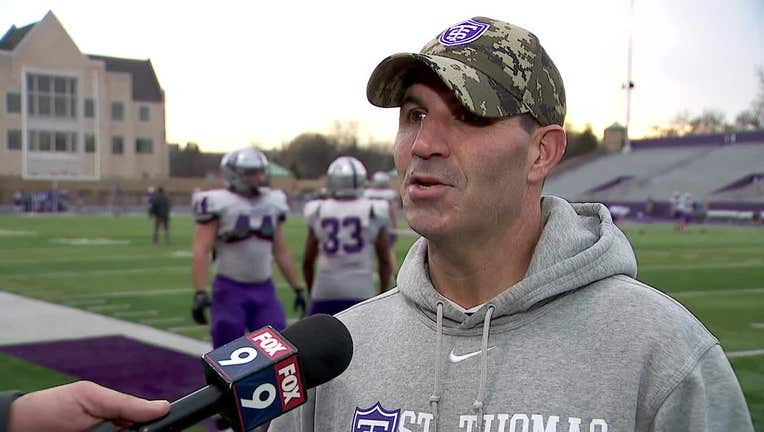 article
ST. PAUL, Minn. (FOX 9) - The University of St. Thomas football team hosts Valparaiso on Saturday in a game you can watch on FOX 9+, and you can't blame them if they do a little scoreboard watching before kickoff.
The Tommies enter the game 7-3 overall, 6-1 in the Pioneer League. They need a win over Valpo, and a Drake loss to Butler, to clinch a share of their second straight league title. St. Thomas won it outright last year in just their second season in FCS play with a win over Butler to finish 8-0 in the conference. The Tommies might know where they stand before kickoff. Drake and Butler start at 11 a.m., while St. Thomas and Valpo are set for a 1 p.m. start.
"Frankly we don't control it because we're not undefeated this year. We've actually lost a game in conference and I'd rather that not been the case but it is what it is," St. Thomas coach Glenn Caruso said Tuesday at practice. "When it gets to game day, that's not something that you focus on. Once you step on the field, the focus has to be what we can do, that we control, and that's one of the reasons that we're in the position we're in. To be able to be in this position is pretty awesome."
It's Senior Day at St. Thomas for 21 players who either four or five years ago, came to the program as Division III players. They're now two years into playing at the FCS level, went through the physical and mental grind of the COVID-19 pandemic and met the challenge of playing up two divisions.
Caruso plans to honor those players Saturday, even if a few are using an extra year of eligibility and returning for what 2024 could bring.
"You're talking about a global pandemic, a total shift in recruiting, a different league, different teams, coast to coast, border to border not to mention going up two levels in division. Having that stalwart, mentally tough leadership, I don't think there's any better headline for us than focusing on the guys that got us here," Caruso said. "My dad used to say when you go to a dance, you dance with who brung you. It's pretty fun to be able to do that this time of year."
St. Thomas's rise in FCS Division I is nothing short of remarkable. Entering Saturday's game, the Tommies are 24-7 in Division I play. That includes going 8-0 in the Pioneer League last year to win the conference in Year 2. They're also 14-0 on their home field at the FCS level.
The Tommies have the nation's longest home win streak at 32 games. Their last home loss was in December 2016, to UW-Oshkosh in the NCAA Division III Playoffs.
"Two years in, to have our first undefeated champ is pretty cool and we'll see how things work out this week, but might be fighting for our second in a row. It's been a reminder to myself and this staff that there's a lot of reasons why you can have success in football," Caruso said. "At the core of it if you have the right people doing the right things the right way, it's not a fancy formula but it seems to work for us, so we're going to keep doing it."
With their move up to Division I, St. Thomas is not eligible for the FCS Playoffs until the 2026 season. For now, the chance to clinch another conference title, keep a home win streak alive and finish on a positive will have to be enough for the Tommies. Not bad for a group that was largely Division III players just two years ago.
"These are guys that when they came into the program four and a lot of them five years ago, they had no idea about what was ahead of them. They picked St. Thomas for the right reasons, because they knew it was a phenomenal education and ridiculously competitive football," Caruso said. "For them to give the way they have selflessly for the university and for this football team, that's what we need to honor. It's a pretty special group."