Select St. Thomas football, hockey and basketball games will be broadcast on FOX 9+
ST. PAUL, Minn. (FOX 9) - The University of St. Thomas and FOX 9+ are teaming up to broadcast select Tommie Athletics games for the 2023-24 season, including football, men's and women's basketball, and men's and women's hockey games. 
"St. Thomas is proud to partner with FOX 9+ as we extend our media coverage to include broadcast TV in the local Twin Cities market," said University of St. Thomas Director of Athletics Dr. Phil Esten. "As a university located in the heart of St. Paul, Minnesota, this is an exciting opportunity for our fans and student-athletes as we become the first athletic department in the metro area to sign a unique, multi-sport local broadcast deal."
This is St. Thomas' first-ever broadcast TV deal, with games broadcast over-the-air for free on FOX 9+. The final four home football games of the 2023 season will air live on FOX 9+, as well as multiple men's and women's basketball and hockey games during the winter months. The full schedule will be announced later this year. 
"We're passionate here at FOX 9/FOX 9+ about bringing more local sports to Minnesota fans. We are very proud to add St. Thomas to our lineup, so that everyone can root on the Tommies as they continue their tradition of excellence," Marian Davey, senior vice president and general manager of KMSP FOX 9 and WFTC FOX 9+. 
How to watch FOX 9+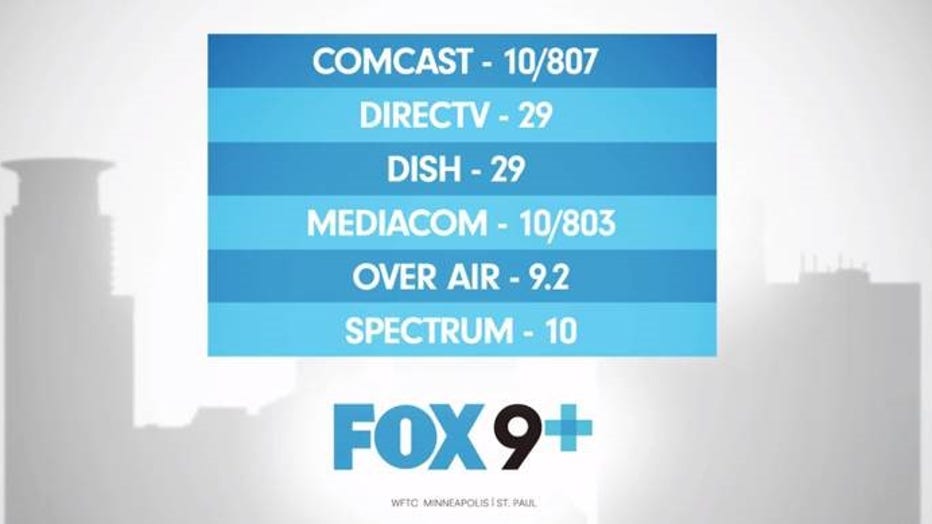 How to watch FOX 9+. (FOX 9)
FOX 9+ is your ticket to local sports. It reaches nearly 2 million homes and can be found on Comcast channel 10/807, DirecTV channel 29, DISH channel 29, Spectrum channel 10, Mediacom channel 10/803, and Over-The-Air channel 9.2. In addition, these games will be available on FOX 9+ on Hulu with Live TV, Sling TV, FuboTV, and YouTube TV.