Roysland: Joining Whalen, Gophers a 'no-brainer'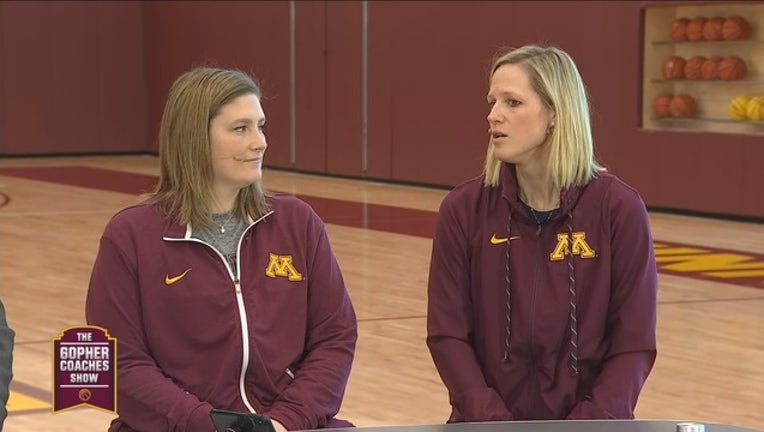 MINNEAPOLIS (FOX 9) - It was just a few days after Lindsay Whalen became the new face for the University of Minnesota women's basketball program.
Kelly Roysland, a teammate of Whalen's during the Gophers' 2004 Final Four run, had to answer a phone call. On the other end? Whalen. The two talked coaching, and what it might take for Roysland to join Whalen's first Division I coaching staff.
They talked vision, fit and what possibilities existed for the two who bleed maroon and gold as much as anybody at Athletes Village. The next day, Roysland's phone rang again. It was Whalen again, and this time, it was a job offer to be an assistant coach for Whalen and the Gophers.
At the time, Roysland was a Division III head coach at Macalester College.
"I said yes immediately. It really was a no-brainer to come back, work with her and work at a place I care a lot about," Roysland said on the Gophers Coaches Show.
There might not be two better Minnesotans to represent a Gophers coaching staff than Whalen and Roysland. Whalen, a Hutchinson native, set virtually every record there was to set in her four years as the Gophers' point guard. She brought life back to a program and regularly filled Williams Arena after the team struggled to get fans at the Sports Pavilion.
"I knew we were going to have a lot of fun along the way because that's what I remember about when I played with her. Being competitive and just wanting to represent Minnesota in the best possible way," Roysland said. "She always said during her senior year we were going to the Final Four."
Roysland, a Fosston native, finished her Gophers career 12th in career scoring and currently sits 19th with 1,074 points. She led the Gopher sin 2006-07 with 13.2 points per game.
Whalen has plenty of mentors to lean on in her first season as a Division I head coach. Her former WNBA coach Cheryl Reeve and Olympic coach Geno Auriemma top that list. Now she has a former teammate to make practice plans, game plan and just be around the game of basketball.
"People I had talked to just said get people you can trust and rely on. She was one of the first people I thought of," Whalen said. "We were teammates and she's coached here before, and been in the game a long time. I hoped it would work out for us to be here on the staff together."
Now, the former teammates and current fellow coaches are trying to navigate Minnesota through the grind of a Big Ten schedule. It's been a learning experience since a 12-0 start. The Gophers are 2-7 in the Big Ten and have lost three straight.
In their latest setback, the Gophers led Ohio State 28-25 at halftime Monday night, but were out-scored 22-12 in the fourth quarter of a 65-55 loss. Against Purdue last Thursday, the Gophers had a 27-26 lead at the half but got out-scored 38-26 in the second half in a 64-53 loss.
At Nebraska on Jan. 20, the Gophers were out-scored 25-11 in the fourth quarter of a 63-57 loss. Minnesota has struggled making shots and finishing games in Big Ten play.
"This is Big Ten basketball. Everybody is going to have a run, and everyone is going to play until the end. We have to somehow find an extra gear to go to in the fourth," Whalen said. "We can't let the fact that our shots aren't falling affect our defense."
So while Minnesota loves Whalen and the program is in great hands, there will be turbulence and nobody is perfect.
And nobody knows it better than Roysland. In her best season at Macalester in 2016-17, the Scots 11-14. It was the program's highest win total in five years. She was also the interim coach for the Gophers in 2014 after Pam Borton's firing.
"She has a different level of responsibility now, managing a program and managing a team, just kind of figuring out how that works," Roysland said. "It's a whole new ballgame if you've never really been in that role and she's done a phenomenal job."
While they game plan and try to keep their team positive despite losses piling, they also keep in perspective what it means to them to be coaching at Minnesota, in Williams Arena.
They wore the Gophers uniforms and know what it means to be associated with the only Division I program in the state. Their goal is to translate that message to current players and prospective recruits, whether they're from Minnesota or not.
"We talk about representing the state of Minnesota, what that means being the only Division I institution in the state. We were both born and raised here, loved our experience here, we both follow Minnesota sports," Roysland said. "We both want to recruit people that have that same passion and pride in the state."