NFL on Fox 9 schedule features 9 Vikings games, 4 Packers games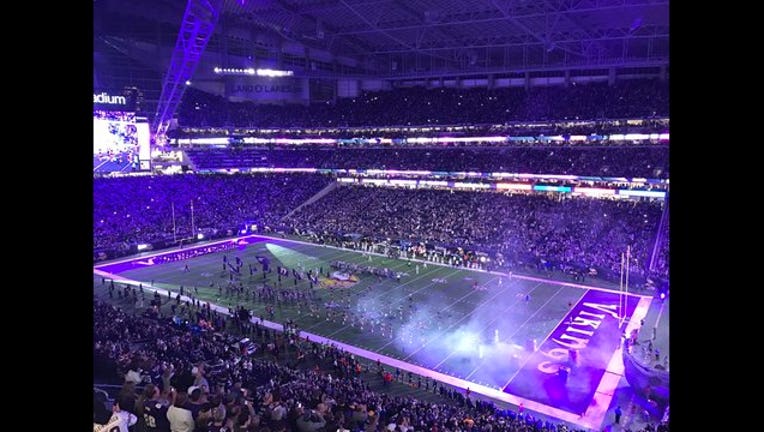 article
MINNEAPOLIS (KMSP) - The NFL on Fox 9 regular season schedule is out. The Minnesota Vikings will play 9 regular season games on Fox 9, in addition to 3 preseason games. That includes a Thanksgiving Day game against the Detroit Lions, a Week 6 border battle with the Green Bay Packers and a New Year's Eve season finale against the Chicago Bears.
FULL SCHEDULE: Vikings 2017 regular season schedule
The Packers, Bears and Lions each have 4 games that will air on Fox 9 during the 2017 NFL season. The Dallas Cowboys are apparently still America's Team, with 9 Cowboys games on the schedule, and 4 games featuring the defending NFC champion Atlanta Falcons.
NFL on FOX 9 SCHEDULE
PRESEASON
Week 1 (Thursday, Aug. 10)
Minnesota Vikings at Buffalo Bills 6:30 p.m.
Week 2 (Friday, Aug. 18)
Minnesota Vikings at Seattle Seahawks  9 p.m.
Week 3 (Sunday, Aug. 27)
Chicago Bears at Tennessee Titans 12 p.m.
Cincinnati Bengals at Washington Redskins 3:25 p.m.
Week 4 (Thursday Aug. 31)
Miami Dolphins at Minnesota Vikings 7 p.m.
REGULAR SEASON
Week 1 (Sunday, Sept. 10)
Atlanta Falcons at Chicago Bears (12 p.m.)
Seattle Seahawks at Green Bay Packers (3:25 p.m.)
Week 2 (Sunday, Sept. 17)
Minnesota Vikings at Pittsburgh Steelers (12 p.m.)
Dallas Cowboys at Denver Broncos (3:25 p.m.)
Week 3 (Sunday Sept. 24)
Tampa Bay Buccaneers at Minnesota Vikings (12 p.m.)
Week 4 (Saturday, Oct. 1)
New Orleans Saints vs Miami Dolphins  in London (8:30 a.m.)
Detroit Lions at Minnesota Vikings (12 p.m.)
Week 5 (Sunday, Oct. 8)
Carolina Panthers at Detroit Lions (12 p.m.)
Green Bay Packers at Dallas Cowboys (3:25 p.m.)
Week 6 (Sunday Oct. 15)
Green Bay Packers at Minnesota Vikings (3 p.m.)
Week 7 (Sunday Oct. 22)
Dallas Cowboys at San Francisco 49ers (3 p.m.)
Week 8 (Sunday, Oct. 29)
Chicago Bears at New Orleans Saints (12 p.m.)
Dallas Cowboys at Washington Redskins (3:25 p.m.)
Week 9 (Sunday, Nov. 5)
Atlanta Falcons at Carolina Panthers (12 p.m.)
Week 10 (Sunday, Nov. 12)
Minnesota Vikings at Washington Redskins (12 p.m.)
Dallas Cowboys at Atlanta Falcons (3:25 p.m.)
Week 11 (Sunday, Nov. 19)
Los Angeles Rams at Minnesota Vikings (12 p.m.)
Week 12 – THANKSGIVING DAY - (Thursday, Nov. 23)
Minnesota Vikings at Detroit Lions (11:30 a.m.)
Week 12 (Sunday, Nov. 26)
Chicago Bears at Philadelphia Eagles (12 p.m.)
Week 13 (Sunday, Dec. 3)
Minnesota Vikings at Atlanta Falcons (12 p.m.)
New York Giants at Oakland Raiders (3:25 p.m.)
Week 14 (Sunday, Dec. 10)
Green Bay Packers at Cleveland Browns (12 p.m.)
Dallas Cowboys at New York Giants (3:25 p.m.)
Week 15 (Sunday, Dec. 17)
Los Angeles Rams at Seattle Seahawks (3 p.m.)
Week 16 (Sunday, Dec. 24)
Detroit Lions at Cincinnati Bengals (12 p.m.)
Seattle Seahawks at Dallas Cowboys (3:25 p.m.)
Week 17 (Sunday, Dec. 31)
Chicago Bears at Minnesota Vikings (12 p.m.)
Arizona Cardinals at Seattle Seahawks (3:25 p.m.)