Nationals bolster bullpen, acquire Kintzler from Twins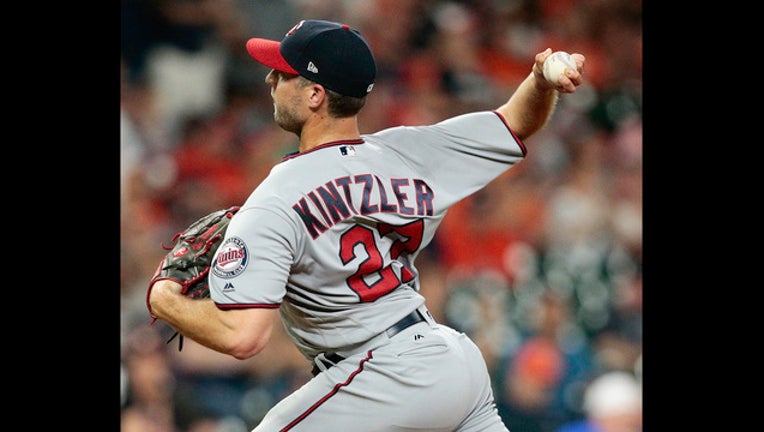 article
MIAMI (AP) - After adding three relievers in two weeks, the Washington Nationals still aren't sure who's going to be their closer.
They suddenly have plenty of candidates.
The NL East leaders added another Monday by barely beating the trade deadline to acquire Minnesota Twins All-Star right-hander Brandon Kintzler, who is 28 of 32 in save opportunities this year.
Kintzler joins newly acquired Ryan Madson and Sean Doolittle, both obtained July 16 from the Oakland Athletics, in the back of the bullpen. The deals transformed the Nationals' biggest weakness into a strength, and manager Dusty Baker will sort out who pitches when.
"It gives me options. As a manager you like to have as many options as possible," Baker said before the Nationals opened a series at Miami. "It's a continual experiment depending on how guys do. The better a guy performs, the more I can slide him into a certain place."
The Nationals began the week with a 13-game lead despite a 5.07 bullpen ERA, worst in the NL. General manager Mike Rizzo said there's plenty of time to settle on a pecking order for the revamped relief corps.
"We're going to get a feel for how the bullpen comes together and how they gel and what roles we would like to see them in," Rizzo said. "We've got two months left in the regular season to kind of figure out which is the best way to attack."
The Nationals acquired Kintzler for 20-year-old left-handed pitching prospect Tyler Watson and $500,000 in international bonus pool allocation. Watson has a 4.43 ERA in 14 relief appearances in Single-A this season.
The Twins were sellers at the trade deadline as they began the week seven games back in the AL Central.
Kintzler, a pending free agent, took over as the Twins' closer in June 2016, converting 45 saves since the promotion, and has a 2.48 ERA this year. The former 40th-round draft pick, who spent three seasons in the independent leagues before making his major league debut with Milwaukee in 2010, has a 3.24 ERA over 271 career major league appearances.
"He pounds the strike zone, has a good sinker, throws a lot of ground balls, gets a lot of weak contact," Rizzo said. "He's capable against right-handers and left-handers, and a guy that is obviously experienced in pitching back ends of games. He has the capabilities of pitching in a lot of different roles, one of those roles being the ninth inning."
Madson and Doolittle also have ninth-inning experience, although neither is a true closer. But Rizzo said he now likes the bullpen's depth and balance.
"You've got lefties who can get out lefties and righties," he said. "You've got righties that can get out righties and lefties. It's a very versatile bullpen with guys that can get important outs at the back end of the game."
The Nationals have had issues at the bottom of their rotation, but Rizzo said they didn't pursue a starting pitcher before the trade deadline.
___
AP Sports Writers Stephen Whyno in Washington and Dave Campbell in Minneapolis contributed to this report.
___
More AP baseball: https://apnews.com/tag/MLBbaseball