Murphy's resurgence key as Gophers face Michigan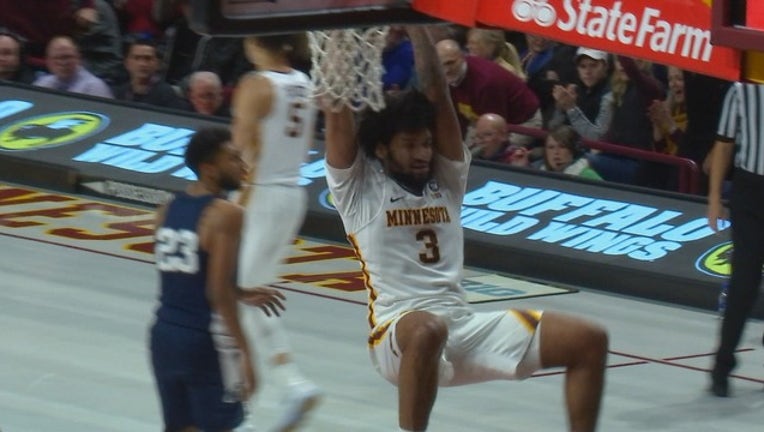 MINNEAPOLIS (FOX 9) - The Gopher basketball team needed somebody to step up against Penn State. The Gophers couldn't afford another home slip-up after losing to Maryland, then getting obliterated at Illinois earlier in the week.
That somebody ended up being two seniors: Jordan Murphy and Dupree McBrayer. Murphy's put-back dunk off his own miss gave Minnesota a 64-61 lead with 55 seconds left against the Nittany Lions Saturday night.
At the free-throw line with 2.7 seconds left and the game tied 64-64, McBrayer had two free throws to win it. He missed the first, but the second was a perfect swish. The Gophers got a badly-needed win and improved to 4-3 in Big Ten play with a road test at Michigan looming Tuesday.
It was a clutch finish for McBrayer, who finished with nine points on just 1-of-5 shooting from the field.
"He made big plays. At the end of the day that's what it comes down to. He missed the first one, I had zero doubt (about) the second one," Gophers coach Richard Pitino said.
Murphy's resurgence within the game was the turning point for the Gophers. He scored 15 of his 19 points in the second half, and grabbed 17 of his 21 rebounds.
He got back to what makes him a force for the Gophers: Rebounding, defending and attacking the basket when the opportunities are there. Pitino had a conversation with him at the half, similar to the one they had two seasons ago. Don't worry about scoring, do everything else and the points will come.
Williams Arena erupted on Murphy's rebound from his own miss and put-back dunk, enough momentum for the Gophers to finish off the win.
"I've watched a lot of basketball. That was one of the best plays I've seen in a college game. It just was sheer will, heart, toughness," Pitino said. "I mean he's always had a really good second bounce and that was a phenomenal play. It was just one of those 'I'm going to make this happen somehow, some way.' It was terrific."
Murphy was recently selected to the Top 25 mid-season list for the Wooden Award, which goes annually to the top player in college basketball. He's also climbing up the record books for rebounding in the Big 10. After tying a personal career-high with 21 rebounds on Saturday, Murphy moved up to third in the league with 1,128 career rebounds.
He's behind only Purdue's Joe Barry Carroll (1,148) and Ohio State's Jerry Lucas (1,411). He needs 21 rebounds to pass Carroll for No. 2 overall.
"To have 21 rebounds in a Big Ten game, that's not normal. I think if he's in that right mentality, he's a special player," Pitino said.
The Gophers' reward is a trip Tuesday to Ann Arbor, Mich., to face the No. 5-ranked Wolverines. Michigan fell three spots in this week's rankings after losing Saturday at Wisconsin, 64-54. It was their first loss of the season, at the same place where the Gophers got their first win at Wisconsin since 2009.
Minnesota will be looking for some revenge after taking the Wolverines to overtime in Ann Arbor last season. The Gophers led by as many as 10 points in the second half of that game before going to overtime and coming up just short, 76-73.
Isaiah Washington had one of the best games of his young career at Michigan last year with 26 points on 11-of-16 shooting.
"It's going to be really emotional because we owe them from last year. I felt like we should've won that game but we just made little mistakes," Washington said. "This year we've just got a chip on our shoulder to go in and play hard and hopefully we get the W."
To do that, the Gophers will likely need to win ugly like they did at Wisconsin, and against Penn State. Minnesota limited Penn State to 28 percent shooting in the second half and forced 12 turnovers. At Wisconsin, they limited the Badgers to 2-of-23 shooting from three-point range.
Wisconsin also shot 7-of-17 from the free-throw line.
Winning on the road in the Big Ten usually involves ugly basketball. It's something the Gophers have to embrace. The play might not be pretty at times, but there's nothing ugly about winning league games. Every Big Ten win is a good win.
"It's not ideal to be scoring in the 60s, we won at Wisconsin scoring 59. But that may happen to us a little bit and that's alright. Just find a way to win, that's the most important thing," Pitino said. "In this league it's a grown man's league, you're going to have to do those things."